IQ-EL
Inline intermediate product analysis and derivation of a quality gate concept for electrode production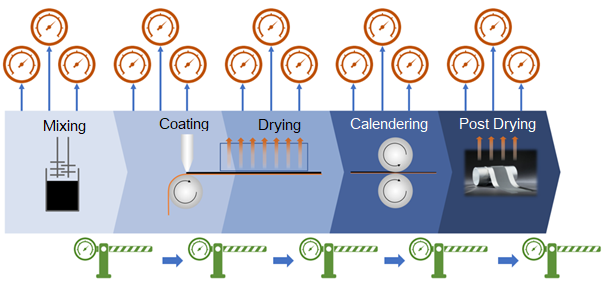 Project Information:
3 years (01.03.2021 – 29.02.2024)
BMBF (3XP0359A)
Funding: 443.467€ (TU BS)
Total Project Volume: 3 Mio. €
Project Partner:
Karlsruhe Institute of Technology (KIT): Institute for Applied Materials - Energy Storage Systems (IAM-ESS), Institute of Mechanical Process Engineering and Mechanics (MVM), Thin Film Technology (TFT)
Fraunhofer Institute for Ceramic Technologies and Systems IKTS, Mobile Energy Storage Systems and Electrochemistry
Center for Solar Energy and Hydrogen Research
---
Project Description
The project IQ-EL is dedicated to the development in the AQua Cluster. Its purpose is the development and the application of quality assurance measures during production along the entire processchain of battery electrodes. The implementation of novel and powerful inline measurement methods enables a more advanced process capture, resulting in an improved process understanding and increased process control in this area. The ability to record and define process tolerances resulting from the availability of inline analytical methods also allows the establishment of a quality gate concept that can be used for process monitoring during production. This establishes release processes for as many intermediate products as possible, ensuring high quality standards within each process step. The application of these measures leads to performance optimization and scrap minimization, which at the same time provides efficient opportunities for cost reduction in battery production.
As part of the project, iPAT is investigating the possibilities of a comprehensive characterization of input and intermediate products. The scope of application ranges from paste preparation, electrode coating and drying to electrode calendering as a transfer point to cell production. This covers a particularly error-sensitive area of the cell production process chain, since defects from this stage can often no longer be corrected in the subsequent production phases and usually only become apparent in the formed cell at the end of the process chain.
---