The Technische Universität Braunschweig has excellent transport connections and is easy to reach either by car or public transport.
The TU's Main Campus is located just 15 minutes by foot from the city centre. Its Historic Main Building, lecture halls, administration building and University Library are clustered around Pockelsstraße.
Additional sites include the East Campus with the engineering, pharmaceutics and physics institutes, the North Campus with the Humanities Centre, and the Campus Research Airport with the Automotive Research Centre Niedersachsen.
For a view of the location of Technische Universität Braunschweig within the city, please see the online map provided by the City of Braunschweig.
For a view of the location of the university's different institutes and facilities, please see our campus maps under the list of institutes.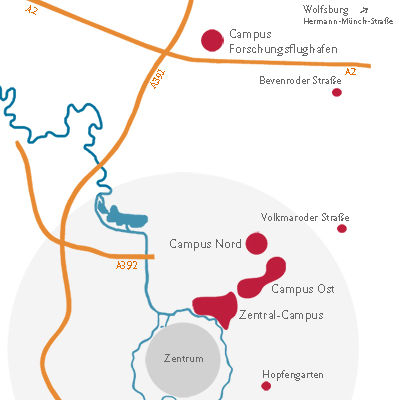 Braunschweig is the largest city between Berlin and Hannover and can easily be reached by car, train, coach or from the nearest airport. Within the city, the busses and trams of the public transport system provide excellent connections to the various sites of Technische Universität Braunschweig.