InTenZ
Intensive post-drying of components for lithium ion cells in discontinuous drying ovens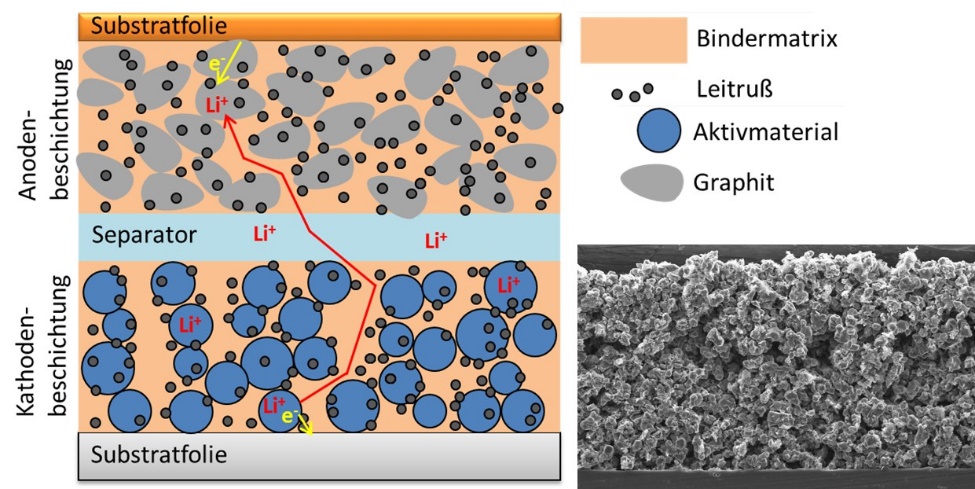 Project Information:
3 years (01.06.2018-31.12.2020)
AiF (19985 N/3)
Funding: 264.000 € (TU BS)
Total Project Volume: 760.000 €
Project Partner:
Karlsruhe Institute of Technology (KIT), Thin Film Technology (TFT)
Landshut University of Applied Sciences - Technology Centre Energy (TZE), Faculty of Mechanical Engineering
---
Project description
Although the step of post-drying has a significant influence on safety and cell performance, there is still little research about post-drying in general and the influence of type and intensity of post-drying. In this project, the material- and energy-saving post-drying of entire coils is considered. With regard to design and layout of the post-drying process, numerous questions arise from which the scientific-technical and economic challenges of this research project can be derived.
The project addresses the challenges of post-drying of electrode and separator coils in vacuum drying ovens through systematic experimental and theoretical investigations of heat and mass transfer with the aim of
designing and constructing vacuum drying ovens in the best possible way
predicting the post-drying process with maximum efficiency in terms of time and energy consumption depending on electrode structure and winding geometry
predicting the effect of post-drying on electrode properties and residual moisture as a function of dry room conditions
Motivation
The manufacturing of Lithium-ion batteries (LIBs) includes a lot of complex process steps and is subjected to various internal and external influences. Therefore, highly reproducible manufacturing processes and stringent quality controls are required to meet the increasing standards and performance requirements. Concerning this matter, moisture represents a quite critical contamination, as the cell performance of LIBs is significantly influenced by the residual moisture content of the cell components. Beside impairing their performance, moisture in battery cells can lead to cell degradation, for example. It can also hinder the formation of an effective Solid Electrolyte Interface, which is needed to protect the active material from direct contact with the electrolyte. Hence, electrodes and separators for Lithium-ion batteries need to be post-dried directly prior the cell assembly to reduce the moisture content in the cells below a critical level.
---