FestBatt
Competence cluster for solid-state electrolytes and batteries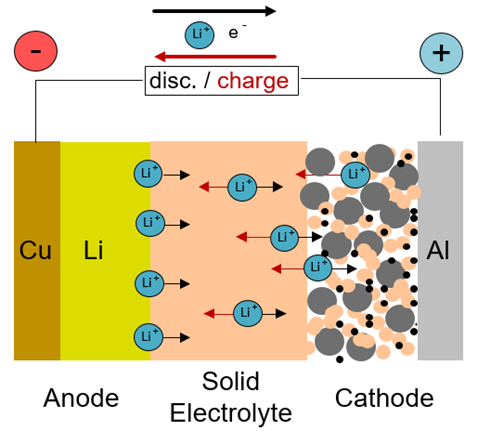 Project Information:
3 years (01.09.2018 - 31.08.2021)
BMBF (03XP0177C)
Funding: 0.7 Mio. €
Project Partner:
Institute of Physical Chemistry (PCI) & Laboratory for Materials Research (LaMa),
Justus-Liebig-Universität Gießen (JLU)
Max Planck Institute for Solid State Research (MPI), Stuttgart
Fraunhofer Institute for Surface Engineering and Thin Films (IST)
---
Project description
All-solid-state batteries (ASSBs) are currently considered as potential further development of lithium-ion batteries with liquid electrolytes. In two consecutive project phases (3 + 3 years), the research will range from the production and scaling up of suitable solid electrolytes (1. phase) to the development of necessary processes for efficient half cells and the construction of full cells (2. phase).
The starting point for FestBatt is the urgent need for high-quality solid electrolytes and technical concepts for the processing of solid electrolytes. The primary objective of the first phase of the project is to provide a sufficient material basis for the rapid and critical evaluation of ASSB concepts by industrial companies and application-related institutes.
Solid electrolytes can be divided into three groups:

a) thiophosphates/sulfides,
b) oxides/phosphates and
c) polymers.

Since the processing of the different classes of solid electrolytes is fundamentally different, the specific processing aspects in the three material clusters must be defined.
Subproject description
The specific objectives of the project are:
Evaluation and process analysis of scalable, dry and wet mechanochemical syntheses of lithium thiophosphates/sulfides
Characterization of the resulting material and surface properties for evaluation of the process routes and for generation of relevant material properties, as well as to get data for the evaluation of the material compatibility with the most important electrode materials
Evaluation of sulfidic solid electrolytes with regard to their processability to electrodes/separators and the resulting performance
---