FB2-Thio
Exploring the application of sulfide solid electrolytes in Batteries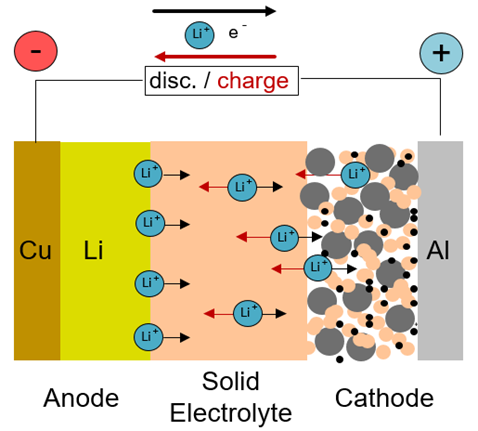 Project Information:
3 years (01.09.2021 - 31.08.2024)
BMBF (03XP0430C)
Funding: 720.187 €
Total Project Volume: 4.319.000 €
Project Partner:
Institute of Physical Chemistry (PCI) & Laboratory for Materials Research (LaMa),
Justus-Liebig-Universität Gießen (JLU)
Max Planck Institute for Solid State Research (MPI), Stuttgart
Fraunhofer Institute for Surface Engineering and Thin Films (IST)
Fraunhofer Institute for Material and Beam Technology (IWS)
Institute for inorganic and analytical chemistry (WWU)
Fraunhofer Institute for Manufacturing Technology and Advanced Materials
Professur for inorganic chemistry (TU Dresden)
---
Project description
The second phase of the project focuses on the improvement of the process for producing solid-state electrodes (anodes as well as cathodes) and then combining them to obtain fully functioning solid state batteries. Using the experiences of the first project phase dealing with the synthesis of solid electrolytes (SEs), the properties of the SEs will be further improved to meet the requirements for each component of the cell.
The goal is to achieve thin separators with low ionic resistance and higher active material loading for improved solid-state batteries.
Moreover, the focus is also on finding a suitable process route for assembling the components into complete cells by using different approaches. Developing high-quality solid electrolytes as well as technical concepts for processing solid electrolytes was the starting point of FestBatt.
Subproject description
The specific objectives of the project are:
Evaluating dry and wet manufacturing methods
Identifying the process-properties-relationships of the produced electrodes in different conditions and counter electrodes
Investigate the Scale-Up of the production of Solid-State Batteries
---