The University Development Initiative 2030
The University Development Initiative 2030
Our comprehensive development on the path to excellence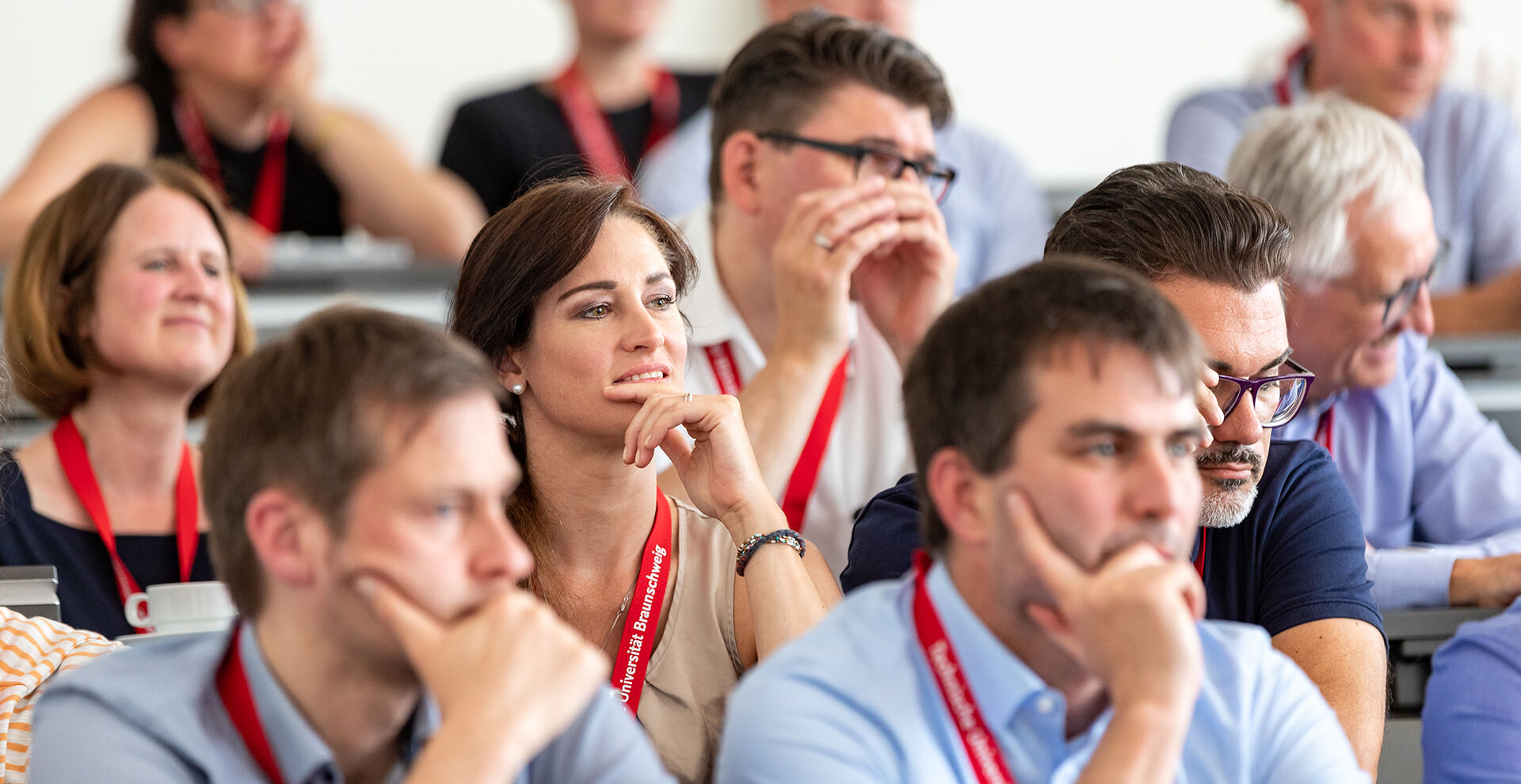 Our Vision
We want to achieve a lot with our University Development Plan: With it, our university continues its transformation into a cosmopolitan and international university. It identifies itself Comprehensive with sustainable values, diversity and lived knowledge & technology transfer and fulfils the requirements of a university with excellent research, innovative teaching and very good study conditions to the highest degree.
TU Braunschweig University of Technology is a place where knowledge is created and where we learn with and from each other.
As part of our university development, we want to support first-class research approaches so that we can shape tomorrow's society and meet global challenges with innovations. And we want to create exciting courses of study for the next generation, with good teaching and respectful interaction in a modern working world for the next generation.
With the University Development Concept 2030, we have laid the foundation for our vision.
Our goal by 2030: Excellence at all levels for the entire university.
The essentials at a glance
Our approach to comprehensive development
Since July 2021, we have been pursuing the strategic approach of comprehensive development on the path to excellence. Comprehensive in this context means that all members of our university develop a self-image in which they align their own work in all performance dimensions and strategic overarching issues with the standards of excellence as a benchmark.
In order to put this strategic approach into practice, we have launched the University Development 2030 initiative, a continuous process within and between the faculties. As a first result, we can present the University Development Concept (Hochschulentwicklungskonzept HEK), which has been published at the end of 2022. On the basis of this concept, the Executive Board and the faculties continue to develop our university and exchange information on progress and future goals in annual development meetings.

The Principle of Holism 
By taking a comprehensive view of our university's structures, we recognise and leverage direct and indirect relationships and interfaces between departments, units, and faculties across the four performance dimensions and with all overarching issues.
Our performance dimensions are
Research
Studying and Teaching
Transfer
Governance and Administration
In the performance dimensions, we strive for excellence and have defined clear goals. These are continually reviewed and developed.
Our strategic overarching themes are
The goals defined in HEK 2030 are based on the listed overarching issues, which are of fundamental strategic importance for our development. The development within each overarching theme is therefore also a measure of our success.
The Principle of Sustainability
We are in the process of strategically aligning ourselves to become a university that takes sustainability into account and integrates it as a unifying and overarching element in all of its future actions.
Sustainability runs through all of our performance dimensions listed above, as well as the overarching issues associated with them. In doing so, we not only consider the ecological aspect in our thinking and actions, but also integrate the economic and social issues of the United Nations Sustainable Development Goals.
The Principle of Responsibility and Participation
We can only achieve our goal of being an excellent university and an attractive employer if we are aware of our collective responsibility and the responsibility of each individual. All members of our university can and should ask themselves in their daily work what they can do differently and what they can do better - be it in one of the overarching issues or as a sustainable contribution to the development of the university.
Learn more about our understanding of each performance dimension and overarching themes.
The process of comprehensive development is designed as a cycle in which we constantly question ourselves as a whole university and our individual results, and continually adjust our actions in light of the development goals we have set.
The participatory process of university development is about taking action. We are happy to share our results and the corresponding objectives with the interested public, because transparency builds trust.
The four performance dimensions reflect who we are as a university and the areas in which we will continue to develop in order to achieve our goals. They are the Performance Dimensions the supporting pillars of our university development concept.
Our strategic overarching themes of digitalisation, internationalisation, equality and diversity, and knowledge exchange guide the individual actions of each individual and the university as a whole. This is where our successes can be seen.
Through a participatory process, we have collectively agreed to align our comprehensive development with defined values and ideas. These are intended to guide us in general and each individual member of our university.
Sustainability is a guiding principle that means we look at our daily activities and, as far as possible, conserve resources both ecologically and economically, and ensure respectful relationships in our social interactions.
Contact
Do you have any questions? Thank you for your interest.
Dr. Phillip Hahn
Head of the Designated Office for Strategical University Development