FestKaBat
All-solid-state cathodes for future high energy density batteries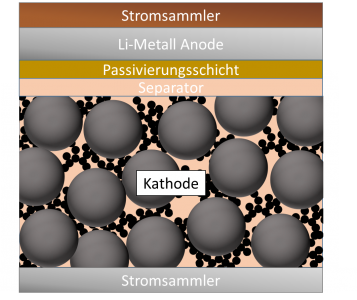 Project Information:
3 years (01.12.2016 - 31.12.2019)
BMBF (03ET6092D)
Total Project Volume: 1.43 Mio €
Project Partner:
Robert Bosch GmbH, Saueressig GmbH & Coperion GmbH
WWU Münster (Institut für Anorganische und Analytische Chemie)
TU Braunschweig (Institute of Energy and Process Systems Engineering & Institute of Machine Tools and Production Technology)
---
Project description
The aim of the project is the process development of all-solid-state cathode for high energy density batteries. This includes conditioning (e.g. granulation or agglomeration process, surface coating etc.) of cathode components as well as structural and electrochemical analysis of the produced composites. The obtained data will be used to develop a structural model. The targeted cell design consisting of a cathode composite and a pure lithium anode should provide a high voltage stability and cycling stability for high c-rates.
Tasks and targets of the iPAT
Process development of a conditioning and manufacturing technique for all-solid-state composites
Process study of conditioning components of an all-solid-state battery electrode with scalable mechanical process technologies
Development of a scalable method for applying a protection layer on active material particles and composites
Process study of a continuous dry manufacturing process for all-solid-state cathodes
Development of a high energy density all-solid-state battery cell by combining prior achievements
Physical and electrochemical investigation for an exemplary description of an all-solid-state battery cell
---