S²taR
Development of All-Solid-State Battery Recycling Processes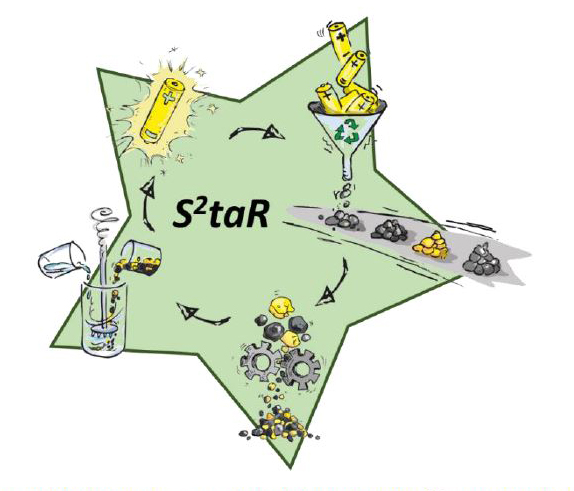 Project Information:
3 years (01.01.2021 - 31.12.2023)
BMBF (03XP0319D)
Funding: 712.682 € (TUBS)
Project Partner:
Fraunhofer Institute for Surface Engineering and Thin Films (IST), Braunschweig (project coordinator)
Institute for Process Metallurgy and Metal Recycling (IME), RWTH Aachen University
Institute for Energy and Climate Research: Materials Synthesis and Processing (IEK-1), Forschungszentrum Jülich
Institute of Mineral and Waste Processing, Waste Disposal and Geomechanics (IFAD), TU Clausthal
Institute of Machine Tools and Production Technology (IWF), TU Braunschweig
Institute for Particle Technology (iPAT),
TU Braunschweig
---
Motivation
The increasing use of rechargeable Lithium-ion-batteries in the transition to a sustainable energy economy leads to an increased demand for raw materials and foreseeable raw material shortages, so that the recycling of these batteries is a fundamental part of a climate neutral energy system. "All Solid-State Batteries" (ASSBs) are currently a promising and heavily researched type of battery, which are expected to provide increased energy densities and lifetimes in addition to greater safety. Very little research has been done on the recyclability of this type of battery, so the project S²taR is intended to provide guidance on the recycling of ASSBs.

Project description
The project investigates and evaluates the recyclability of already promising All Solid-State Batteries. In particular, recycling technologies that have been established in the processing of conventional lithium-ion batteries are to be transferred and further developed. In addition to pyrometallurgical and hydrometallurgical process approaches, mechanical and thermal processing methods are to be considered in particular. By developing holistic process chains for the three different types of solid-state batteries (sulfide, oxide and polymer-based), emerging questions regarding the recyclability and sustainability of innovative ASSBs can be answered even before these batteries reach market maturity.
---