EFRE-Project "diagnostic glovebox line"
EFRE-Project "diagnostic glovebox line"
Diagnostic glovebox line for examining battery aging mechanisms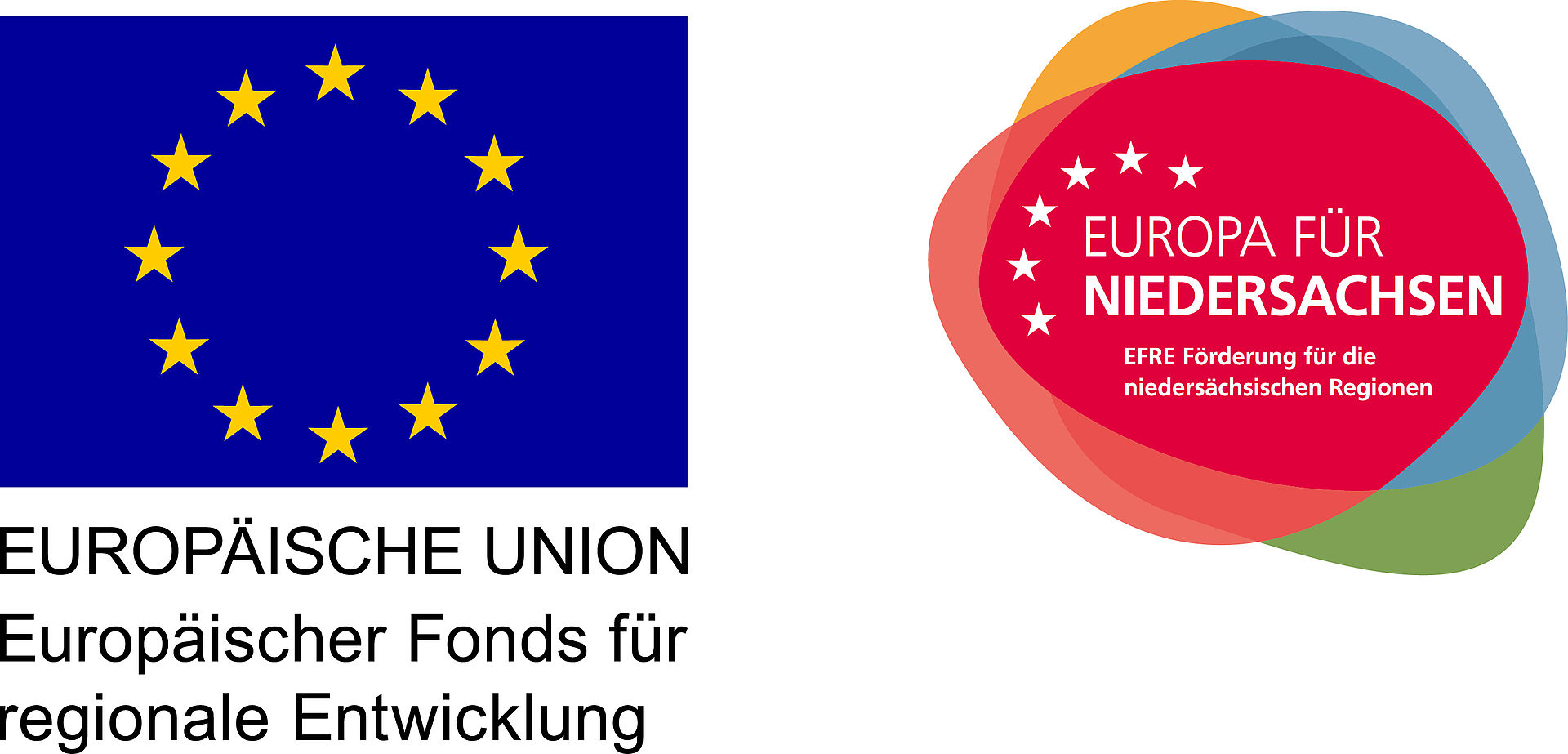 Project Information:
25 months (01.10.2019 – 31.10.2021)
EFRE (85035835)
Funding: 0.5 Mio € (TUBS)

Total Project Volume: 1 Mio €
---
German version below
At the Battery LabFactory Braunschweig (BLB), a diagnostic glovebox line for investigating the aging of battery cells is being built. The project is being funded with 0,5 million euros from the European Regional Development Fund. With the data obtained, BLB scientists will be able to specifically adapt battery cell production and directly link newly developed production processes and materials to ageing. The diagnostic line expands the already established infrastructure of the Battery LabFactory Braunschweig and enables reproducible, systematic ageing analysis, since the structures and data of the electrodes and cells produced there are precisely known. This opens up the possibility of evaluating the quality of production parameters in connection with the application of the cells, i.e. the type of load during use. The Braunschweig researchers thus gain a detailed understanding of the mechanisms and processes that lead to the ageing of batteries and ultimately to the end of battery life.
With the knowledge gained, existing production processes and cell configurations can be optimized, new materials can be developed and models for aging simulations can be created from which life cycle predictions and utilization profiles can be derived. Battery chemistries such as lithium-ion, lithium-sulphur and lithium-air as well as "all-solid-state" batteries are under investigated. In the future it will be possible to produce electrode structures and cells tailored to the application and to understand the influence of the materials on aging in detail.
For this purpose, so-called gloveboxes, which are hermetically and gas-tightly sealed, are equipped with measuring instruments. This is necessary because the active materials of the individual battery components react with air. After the cells have been exposed to certain operating scenarios and environmental stresses - in order to simulate their use in a targeted manner - the batteries are opened in the first working section in order to investigate changes in electrodes, electrolyte and separators in physico-electrochemical analyses in a second glovebox section. These include climatic, mechanical, chemical, electrical and electrochemical influences. In order to trace the aging mechanisms even more precisely, "aged" components and new ones can be reassembled to build refreshed battery cells in the third working section of the diagnostic line.
Diagnosestraße zur Untersuchung von Batteriealterungsmechanismen
An der Battery LabFactory Braunschweig (BLB) entsteht eine Diagnosestraße zur Untersuchung der Alterung von Batteriezellen. Gefördert wird das Projekt mit einer halben Million Euro aus dem Europäischen Fonds für regionale Entwicklung. Die Wissenschaftlerinnen und Wissenschaftler der BLB können mit den gewonnenen Daten die Batteriezellproduktion gezielt anpassen und neu entwickelte Produktionsprozesse und Materialien direkt mit der Alterung in Verbindung bringen.
Die Diagnosestraße erweitert die bereits bestehende Infrastruktur der Battery LabFactory Braunschweig und ermöglicht erstmals die reproduzierbare, systematische Post-Mortem Analyse der dort hergestellten und untersuchten Batteriezellen. Damit kann unter anderem auf die Güte und den Einfluss von unterschiedlichen Produktionsparametern geschlossen werden. Dies ermöglicht es ein Verständnis und detaillierte Informationen über Prozesse, die zur Alterung von Batterien und schließlich zum Batterielebensende führen zu erhalten.
Mit den gewonnenen Erkenntnissen können bestehende Produktionsprozesse und Zellkonfigurationen optimiert, neue Materialien entwickelt und Modelle für Simulationen erstellt werden, aus denen Lebensdauerprognosen und Nutzungsprofile abgeleitet werden können. Untersucht werden Lithium-Ionen-Batterien, Lithium-Schwefel- und Lithium-Luft-Batterien sowie "All-Solid-State"-Batterien.
Die Diagnosestraße besteht aus vier Gloveboxen (mit drei unterschiedlichen Arbeitsräumen) die vom Arbeitsraum hermetisch und gasdicht abgeschlossen sind, in einem zusammenhängenden System aufgebaut und mit diversen Messgeräten ausgestattet. Im ersten Arbeitsschritt wird es Prüfstände für Belastungs- und Umweltsimulationen geben. Es geht hierbei beispielsweise um elektrische, mechanische, chemische oder klimatische Einflüsse auf Material und Systeme von Batterien und Leistungselektronik. Es werden Alterungsprozesse ablaufen und diese mit nicht-invasiven Methoden analysiert, um deren Ursachen im Detail erforschen zu können. Anschließend werden die Batterien in der Glovebox geöffnet, um Veränderungen an Elektroden und Elektrolyt zu untersuchen. In einem dritten Arbeitsschritt findet die physikalisch-elektrochemischen Analyse (Bsp. REM, Headspace-GC, Elektrodenparameter) der Proben statt. Der letzte Schritt dient der Reassemblierung der Zellmaterialien. Dies ermöglicht, dass die bereits gealterten Materialien zusammen mit neuen Elektroden wieder zu Batterien (Halbzellen oder Vollzellen assembliert werden, um weitere chemisch-physikalische Untersuchungen außerhalb der Diagnosestraße durchführen zu können.
---