Graduate Academy GradTUBS
Graduate Academy GradTUBS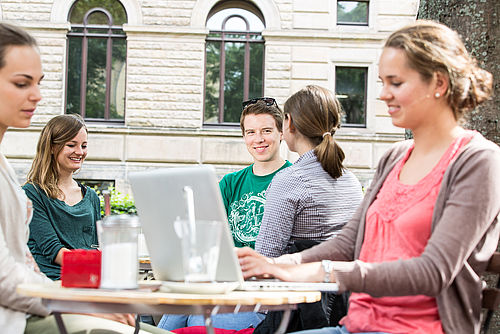 Interdisciplinary qualifications and the willingness to acquire new knowledge are indispensable qualities that employers are demanding more than ever. The Faculty of Mechanical Engineering has set itself the goal to prepare doctoral students for work in research and industry by acquiring career-relevant key qualifications. Therefore, participation in at least four soft skill courses is an important part of the doctoral studies at our faculty.
Since October 2015, the new Graduate Academy GradTUBS is offering courses and networking events for all doctoral students, regardless of their subject and faculty at TU Braunschweig. The offer includes the areas of communication, career and perspective, organization and management as well as scientific work.
In order to submit your dissertation to the Faculty of Mechanical Engineering, you need proof of participation in at least four interdisciplinary courses. Participation in further courses is of course open to you.
Registration and Participation
Registration: doctoral students who wish to register for GradTUBS events via Stud.IP must register with GradTUBS beforehand. To do so, please use this form, fill it out and send it to Graduate Academy GradTUBS and your supervisor in CC.
Participation: All events can be booked via Stud.IP, an overview of the current offer can be found on this page. To register for workshops you need a working user ID: the login data, which you also use to retrieve your TU e-mail address. Matriculated doctoral students receive the user ID automatically with their student ID. Please note that you can only register for courses if you have assigned yourself to the "course of studies" GradTUBS at Stud.IP (under: Profil> Nutzerdaten> Studiendaten). Please also enter the name of your doctoral supervisor and the name of your supervising institute (under: Profil; Nutzerdaten; weitere Daten)
External doctoral students please send an e-mail to GradTUBS with a request for activation for Stud.IP, stating your name, your supervisor and his/her institute as well as your e-mail address. The supervisor has to be set to CC in this mail.
Important: The offer of GradTUBS events includes both subject-specific and interdisciplinary courses, which are basically open to all doctoral students. According to § 3, paragraph (4) c) of our Doctoral Regulations, the participation in four interdisciplinary courses is mandatory for the opening of the doctoral procedures. Please note that some courses do not count towards your doctorate; the program is marked accordingly.
Recognition of external workshops
In case the workshops were held by an external service provider, doctoral students can have them credited to their account. For this purpose, an equivalence check to the workshop offer of TU Braunschweig is required, which is done by the colleagues of GradTUBS. Please submit your workshop certificates bundled together. The final recognition of the equivalence will be carried out by the Doctoral Committee according to § 3, paragraph (4) d) of the Doctoral Regulations. Subsequently, please submit your workshop certificates and the GradTUBS certificates together with your application for opening the doctoral procedure to the office of the Faculty of Mechanical Engineering.
Important: Please note the faculty's guidelines (in german only) for the recognition of external workshops.