Information for Employees
In addition to the measures that are being implemented by the Administration, there is also a lot that individuals can do. Read on to find out which measures are relevant to you. You will also find a few suggestions as to how you as a staff member can help your University save energy.
One measure that will probably affect most staff members is the general reduction of room temperatures. The University Administration is aware that this has a significant impact on individual levels of comfort. Please come to work prepared for this.
With the help of our energy cost budgeting policy, we have already made significant savings since 2014. We can all be proud of what we have achieved. At the same time, however, we know that our goal of cutting a further 20% of our heating and electricity consumption will be difficult to achieve. We must rely on your cooperation. We would be delighted if a University-wide debate on suitable measures that could be implemented would develop.
Share your ideas with us.
Do you have an idea or best practice solution for saving energy? Feel free to contact us.
To view content restricted to members only at the bottom of the page, please log in below.
Centralised measures we are currently implementing...
The maximum temperature in workspaces where light physical work and predominantly sedentary work is carried out (office) is 19°C.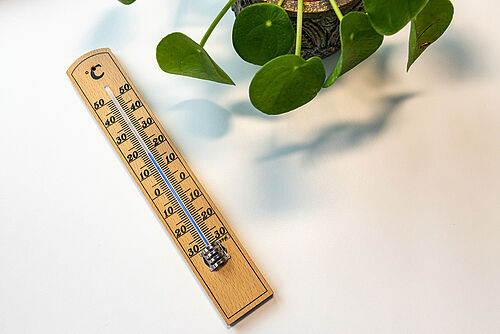 Lower temperature limits apply to areas where physical work is carried out while standing or walking.
In agreement with the Advisory Committee, the Executive Board has decided that the heating systems across our University will only be put into operation from 1 October onwards.
Supply temperatures for the heating systems will be reduced slightly during daytime operation and somewhat more during night and weekend operation.
The times during which the supply temperatures for the heating are lowered at night and on weekends will be extended: Before 7:00 and after 17:00, temperatures are lowered for the night, and on Fridays, temperatures are lowered for the weekend from 12:00.
Storage rooms, communal spaces and circulation areas where people do not stay for long are not heated.
For this purpose, thermostats are pre-set to frost protection.
Corridors and stairwells will be significantly cooler.
Student workplaces in foyers and corridors are not affected by these measures.
Decentralised water heating systems (e.g. instantaneous water heaters or decentralised hot water tanks) will be put out of operation.
Systems that are necessary for hygienic or operational reasons are excluded from this regulation.
The colleagues of Facilities Management are already implementing these measures step by step.
Outdoor lighting systems used for purely aesthetic reasons are switched off.
The lights in the dome of the Haus der Wissenschaft have already been switched off.
Lighting systems for other prestigious areas or for aesthetic reasons are not in place.
TU Braunschweig's indoor and outdoor lighting meets the legal standards for accident prevention and the duty to implement safety precautions. We cannot fall short of these standards. In part, they also serve to protect against vandalism and to ensure safety on campus.
We are already using energy-efficient LEDs across much of our outdoor facilities. The interior lighting is also being replaced with energy-efficient LED lamps, but this takes a lot of time. Motion sensors are already being used in many buildings to ensure that the lights are switched on and off as needed.
We have decided to temporarily extend the permission to work from home should you wish to do so.
Our flexible working concept "Flexibles Arbeit" provides for various options for working from home for limited periods from which you can select.
You can discuss your options with your line manager and explore the energy savings that might result.
But we intend to remain an on-site University—and that applies to our employees too; although, of course, the opportunity to work from home on a voluntary basis will still be available.
The University will be closed for an extended period over the 2022/2023 Christmas/New Year season—from 23 December 2022 to 6 January 2023 inclusive.
During this closure period there will be no teaching activities, meaning that TU Braunschweig can save significantly on heating and electricity costs, helping us get much closer to our energy-saving targets.
In consultation with the Staff Council, we have agreed on flexible working time arrangements that should help you through this period. Please ensure that you get your line manager's approval for any arrangement you wish to make. You can either take five days' leave, make use of the flexitime scheme, or—where this is operationally possible—work from home for up to two days. It is also possible to combine these options.
We carefully considered all the advantages and disadvantages of extending the closing period, taking every stakeholder's interests into account, before reaching our decision. Given the unprecedented magnitude of the energy crisis, the Staff Council and University Administration have concluded that saving energy must be given top priority and have thus jointly approved the closure and agreed on working time arrangements that are as fair as possible.
What you can do ...
Heating
Wear appropriate clothing that will keep you warm in the premises even at lower temperatures.
Set your thermostats to about one bar below 3 to aim for the prescribed temperature of 19°C.
You should check the room temperature with a thermometer, if necessary.
At the end of the working day: Set back the thermostat to 1 (equivalent to approx. 15°C) and do not set it back to the value that will heat your office to 19°C until the next working day.
Discuss in your team how you can align your work routines and office hours optimally with the changes made to the times when the temperatures will be lowered at night and on weekends.
Keep office doors closed; corridors and staircases will not be heated for the most part.
Check whether side entrances without a draught lobby can remain closed.
Consider whether regular deliveries can be consolidated to reduce heat loss.
If possible, student workplaces should be grouped together or housed in more energy-efficient alternatives.
If the temperatures in your work area are too low due to the weather (even before the start of the heating season), submit a ticket via the fault monitoring system of Facility Management in consultation with the head of your team, specifying the building, the room and the temperature currently reached. There are many things we need to get used to and adjust, if necessary. Therefore, we depend on your feedback.
Carry out an internal assessment to determine whether you might be able to introduce measures on your own initiative to reduce the need for heating; perhaps you could consider avoiding the use of office rooms that are overshadowed or locating more workplaces in one single room.
Organisational questions
Plan access to buildings in such a way that side entrances without a draught lobby are not used. Try to organise deliveries so that entrances have to be opened for as short a time as possible.

Only use dishwashers and washing machines when they are fully loaded. If available, use eco programmes. Use a fast programme to wash lightly soiled dishes, if safe to do for hygiene reasons.
Save paper and print less—use electronic alternatives (for employees in Administration, the corresponding circular [in German only] applies, which can be found in the information portal). The production of paper, especially if it is not recycled, requires a lot of energy.
Think about appropriate new purchases: Replacing desktop PCs with more energy-efficient laptops also facilitates mobile working. Old refrigerators consume significantly more energy than modern appliances.
Saving electricity
Turn off the lights during the day and open blinds to let in the daylight. Position your monitors so that there is no backlight and you are not blinded by the sun. Use only a desk lamp instead of ceiling lights if the brightness is sufficient.
Replace old desk lamps or old light bulbs–if you still have them—with energy-efficient ones.
Inform Facilities Management via the ticket system in case of malfunctions. Controlling large areas with motion sensors is a very complex system. Your feedback can help to improve it.
When taking a longer break, activate the energy-saving mode on your computer. Do not use a screen saver. Turn off your computer completely overnight.
Avoid standby power consumption. Although this consumption is usually low, every kilowatt hour counts. Switchable power strips are available for collection from the Electrical Workshop [in German only] every Tuesday and Thursday from 9:00 to 9:30 for staff in Administration. Advance notification is not necessary. Attention: Please do not switch off multifunctional devices without permission, as providers perform maintenance tasks during the night. Standby operation of such devices is usually very economical.
Of course, lifts are in operation for a reason. If possible: Try to use the lifts less, rather take the stairs—this saves electricity and is healthier.
Switch off refrigerators when the University is closed for long periods (for example at the turn of the year) and defrost them.
Check whether and where decentralised water heating systems could be switched off. Please report this along with the specific location and contact person via the ticket system; we will be happy to provide support after consultation.
If a system has to run for operational reasons: Avoid using hot water if it is not necessary.
Mobility
Cycle and use public transport instead of your car to get to work. TU Braunschweig's Job-Abo [in German only] is one way to use local public transport at a reasonable price.
The acquisition of cargo bicycles is a nice idea. For several years now, Division 3 – Facilities Management has been primarily purchasing electric vehicles used for trips on campus. Particularly for short distances, cargo bicycles could be a useful addition. A purchase must be examined individually by the facilities and institutes. Cargo bicycles can also be borrowed via TU Braunschweig's Sandkasten for both work-related and private purposes.
For business trips, consider travelling by train instead of by plane. Especially for very short business trips to far-away places, it may also be appropriate to resort to digital alternatives.
What we implement ...
Roofs of our buildings are already equipped with solar collectors (photovoltaics) to a high degree. You can read about these and other energy efficiency measures in an overview [in German only] of Division 3.
A lot of electricity has already been saved by using very economical lamps in many areas. 70% of the outdoor lighting has already been replaced by LEDs. Motion detectors have already been installed in many indoor areas to control the lighting according to demand. These adjustments require a lot of time and are an ongoing process.
As part of energy cost budgeting, we have saved about 20% electricity and 14% heating energy in buildings from 2013 to date.
The replacement of old refrigerators has already been implemented to a large extent.
The elimination of fax machines is being examined and has already been partially implemented in Administration.
Using more energy-efficient laptops instead of desktop PCs is now standard in Administration.
More vegetarian meals are already being offered in the Mensa: You can read about how the Mensa is managing operations more sustainably on the website of the Studentenwerk.
The re-commissioning of rotary heat exchangers or air mixing chambers in ventilation systems provides a significant savings potential and has already been implemented. We hope to be able to maintain this next winter. Due to the coronavirus pandemic, we had to switch to a 100% fresh air supply with the result that waste heat could not be used.
In dialogue with the users, potential building-related energy savings are identified and measures are proposed. These can be, for example, to reduce operating times or to stop heating unused areas. It may also mean optimising capacity in facilities that require a lot of energy.
Mobile working has already been made possible for up to 30% of the weekly working time for our technical and administrative staff under an agreement in accordance with Section 81 of the Lower Saxony Staff Representation Act (Niedersächsisches Personalvertretungsgesetz–NPersVG) on teleworking and mobile working for administrative staff in the State of Lower Saxony. Further leeway is currently being examined.
Extending the period when the University is closed at the turn of the year would be a very complex step and would have substantial implications not only for research, teaching and transfer, but also for administrative operations. To examine this suggestion will therefore require a great deal of coordination.
Ideas we will not pursue further ...
TU Braunschweig wants to be a university where students can study on campus. Teaching, research and operations should not be unnecessarily restricted. This means that we are planning to offer classroom teaching entirely in the winter semester too. For as long as possible, we will not unnecessarily restrict our activities. At the same time, however, some services may only be offered at limited times or closing times may be adjusted. Switching to digital teaching formats would have only a minor effect in terms of saving energy, as most infrastructures—especially those that use a lot of energy—are used by employees and teaching staff alike.
Programmable thermostats for heating systems have a poor cost-benefit ratio as far as the University as a whole is concerned. This is because they require a lot of maintenance (programming/battery replacement). Unfortunately, this measure cannot be implemented for this reason. What works better is to regulate heating systems centrally (see above), supported by individual heating behaviour.
From the many enquiries we have received, we can see that bike leasing schemes for employees, such as Job-Rad, is definitely a popular option. What is needed here is a provision in the collective agreement that allows for salary conversion to company bike leasing. Without this legal basis in the collective agreement, this is unfortunately not possible for employees of the State.
Setting up an internal website to facilitate carpooling for commuters is a difficult task from a legal point of view. It is also unclear, for example, whether it would be permissible to spend State resources on setting up and maintaining such a website. However, you can already network with each other via our existing communication platforms, for example the TU Chat.
A lot of multi-function printers are operated in our offices. Devices used under a framework agreement may not be switched off because maintenance and service are carried out at night. This also applies to other devices that are controlled via the TU network. In some cases, multi-function printers are also used as fax machines and should therefore be switched on at all times. With many devices, "booting" means additional energy is used. It also causes wear and tear, as nozzles are cleaned and print heads are adjusted. In fact, these devices are in most cases optimised for operation in standby mode.