The TU Braunschweig has developed a catalog of measures to reduce electricity and gas consumption. With these, we want to make our contribution to overcoming the energy crisis and reducing greenhouse gas emissions. Unfortunately, we will all be forced to forego some of the amenities we have enjoyed in recent years in order to achieve this.
There is agreement in the Advisory Committee on Security of Supply appointed by the Senate that classroom teaching has a high priority for TU Braunschweig. A complete lockdown would place the problem of energy supply and energy costs solely on our employees and students. Therefore, our premise is: Despite all austerity measures, research, teaching and administration should not be affected negatively and should be maintained as long as possible. Nevertheless, cuts in everyday work and studies that will affect us all are to be expected.
Share your ideas with us.
Do you have an idea or best practice solution for saving energy? Feel free to contact us.
Log in to see in-house content at the bottom of the page.
What we manage centrally ...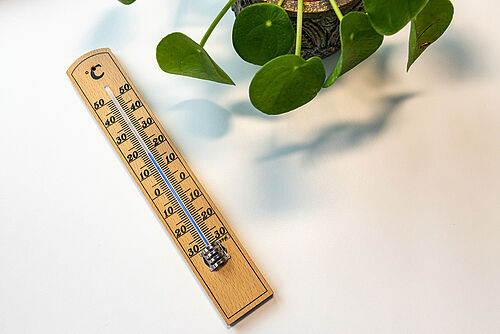 The maximum temperature in workspaces where light physical work and predominantly sedentary work is carried out (office) is 19°C.

Storage rooms, communal spaces and circulation areas where people do not stay for long are not heated. Student workplaces in foyers and corridors are not affected by these measures.

Spatial relocation of weekend courses (block courses) to two buildings on the North Campus with the aim of heating as few buildings as possible.

Restricting the opening hours of the University Library, with the aim of reducing the heating times of the energy-inefficient UB. Eliminated study spaces will be made available in more energy-efficient spaces so that sufficient study spaces are available. On weekends and during off-peak hours, the new student house, the Masch.Bau student house and rooms in Wendenring 1-4 will be available as learning spaces. The opening hours will be announced soon.

All central lecture and seminar rooms can be used as learning spaces when they are not occupied. Through a QR code, the occupancy schedule can be viewed.

Due to the extension of the closing times of the TU Braunschweig, services of the administrative facilities will not be offered in the first week of January.

Decentralised water heating systems (e.g. instantaneous water heaters or decentralised hot water tanks) will be put out of operation.

Outdoor lighting systems used for purely aesthetic reasons are switched off. TU Braunschweig's indoor and outdoor lighting meets the legal standards for accident prevention and the duty to implement safety precautions. In part, they also serve to protect against vandalism and to ensure safety on campus. 70% of the outdoor lighting has already been replaced by LEDs.
What anyone can do ...
Heating energy
Wear appropriate clothing that will keep you warm in the premises even at lower temperatures.
Keep doors closed; corridors and staircases will not be heated for the most part.
Saving electricity
Turn off the lights during the day and open blinds to let in the daylight.
Avoid standby power consumption. Although this consumption is usually low, every kilowatt hour counts.
Of course, lifts are in operation for a reason. If possible: Try to use the lifts less, rather take the stairs—this saves electricity and is healthier.
Organisational questions
Save paper and print less—use electronic alternatives.
Mobility
Cycle and use public transport instead of your car to get to campus.
What we implement ...
Roofs of our buildings are already equipped with solar collectors (photovoltaics) to a high degree. You can read about these and other energy efficiency measures in an overview [in German only] of Division 3.
A lot of electricity has already been saved by using very economical lamps in many areas. 70% of the outdoor lighting has already been replaced by LEDs. Motion detectors have already been installed in many indoor areas to control the lighting according to demand. These adjustments require a lot of time and are an ongoing process.
As part of energy cost budgeting, we have saved about 20% electricity and 14% heating energy in buildings from 2013 to date.
The replacement of old refrigerators has already been implemented to a large extent.
The elimination of fax machines is being examined and has already been partially implemented in Administration.
Using more energy-efficient laptops instead of desktop PCs is now standard in Administration.
More vegetarian meals are already being offered in the Mensa: You can read about how the Mensa is managing operations more sustainably on the website of the Studentenwerk.
The re-commissioning of rotary heat exchangers or air mixing chambers in ventilation systems provides a significant savings potential and has already been implemented. We hope to be able to maintain this next winter. Due to the coronavirus pandemic, we had to switch to a 100% fresh air supply with the result that waste heat could not be used.
In dialogue with the users, potential building-related energy savings are identified and measures are proposed. These can be, for example, to reduce operating times or to stop heating unused areas. It may also mean optimising capacity in facilities that require a lot of energy.
Mobile working has already been made possible for up to 30% of the weekly working time for our technical and administrative staff under an agreement in accordance with Section 81 of the Lower Saxony Staff Representation Act (Niedersächsisches Personalvertretungsgesetz–NPersVG) on teleworking and mobile working for administrative staff in the State of Lower Saxony. Further leeway is currently being examined.
Extending the period when the University is closed at the turn of the year would be a very complex step and would have substantial implications not only for research, teaching and transfer, but also for administrative operations. To examine this suggestion will therefore require a great deal of coordination.
Ideas we will not pursue further ...
TU Braunschweig wants to be a university where students can study on campus. Teaching, research and operations should not be unnecessarily restricted. This means that we are planning to offer classroom teaching entirely in the winter semester too. For as long as possible, we will not unnecessarily restrict our activities. At the same time, however, some services may only be offered at limited times or closing times may be adjusted. Switching to digital teaching formats would have only a minor effect in terms of saving energy, as most infrastructures—especially those that use a lot of energy—are used by employees and teaching staff alike.
Programmable thermostats for heating systems have a poor cost-benefit ratio as far as the University as a whole is concerned. This is because they require a lot of maintenance (programming/battery replacement). Unfortunately, this measure cannot be implemented for this reason. What works better is to regulate heating systems centrally (see above), supported by individual heating behaviour.
From the many enquiries we have received, we can see that bike leasing schemes for employees, such as Job-Rad, is definitely a popular option. What is needed here is a provision in the collective agreement that allows for salary conversion to company bike leasing. Without this legal basis in the collective agreement, this is unfortunately not possible for employees of the State.
Setting up an internal website to facilitate carpooling for commuters is a difficult task from a legal point of view. It is also unclear, for example, whether it would be permissible to spend State resources on setting up and maintaining such a website. However, you can already network with each other via our existing communication platforms, for example the TU Chat.
A lot of multi-function printers are operated in our offices. Devices used under a framework agreement may not be switched off because maintenance and service are carried out at night. This also applies to other devices that are controlled via the TU network. In some cases, multi-function printers are also used as fax machines and should therefore be switched on at all times. With many devices, "booting" means additional energy is used. It also causes wear and tear, as nozzles are cleaned and print heads are adjusted. In fact, these devices are in most cases optimised for operation in standby mode.