Online-Tagung "Automation und Kreativität"
Kreativität aus dem Computer? Künstliche Literatur und Big Data in der Musik-Produktion? Diese und andere Entwicklungen beleuchten Wissenschaftlerinnen und Wissenschaftler vom 7. bis 10. Oktober bei der Online-Tagung "Automation und Kreativität" kritisch. Das vom Niedersächsischen Ministerium für Wissenschaft und Kultur geförderte Forschungsprojekt "Von der Avantgarde zum Algorithmus: Automatisierte Kreativität in Literatur und Musik" (Institut für Anglistik und Amerikanistik, Institut für Germanistik, Institut für Musik und ihre Vermittlung) bringt im Rahmen dieser in deutscher und englischer Sprache abgehaltenen Veranstaltung Forschende aus den Literatur-, Kultur- und Medienwissenschaften sowie der Informatik zusammen.
Die Teilnahme an der Tagung ist kostenlos. Anmeldungen sind über die Website möglich:
www.tu-braunschweig.de/anglistik/seminar/liku/projekt-automatisierte-kreativitaet/veranstaltungen-news
Dystopian/Utopian Theatre in Britain after 2000 and Its Political Spaces
Due to COVID-19, the workshop has been provisionally moved to 2021
From 2-4, April 2020, Prof. Dr. Merle Tönnies (Paderborn, GER), and Eckart Voigts (Braunschweig, GER) will organize a ZiF Workshop at the Centre for Interdisciplinary Research, Bielefeld, on "Dystopian/Utopian Theatre in Britain after 2000 and Its Political Spaces".
This workshop takes an interdisciplinary approach to reach a comprehensive overview of the various 21st-century British plays which make use of characteristic dystopian and/or utopian elements. These works, hitherto neglected in critical discourse, operate in the specific spatial scenario of theatre and provide new functions, departing significantly from the established genre of dystopia that has for a long time overshadowed utopian scenarios. They can be seen as responding both to the general literary and cultural trend towards dystopian formats and to the increasing disintegration of political discourse in Britain at least from the mid-1990s onwards. Against this background, British dystopian theatre can work as a way of returning to the genuine political issues of power relations, inequality and exclusion that are now often hidden by a smokescreen of rhetoric.
Participants include John Storey (Sunderland), Aleks Sierz (London), and Nicole Pohl (Oxford) and Elaine Aston (Lancaster)
https://www.uni-bielefeld.de/(en)/ZiF/AG/2020/04-02-Toennies.html
Videographic Criticism: Performative Wissenproduktion und ästhetische Praxis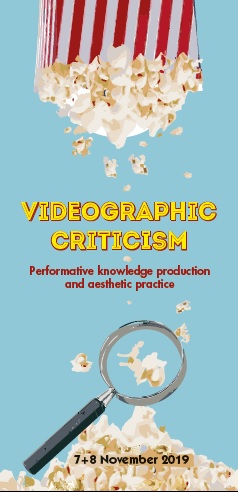 Am 7. und 8. November 2019 findet in Braunschweig ein internationaler Workshop zum Video-Essay statt: Titel: "Videographic Criticism Performative Wissenproduktion und ästhetische Praxis"
Veranstaltet von Prof. Dr. Eckart Voigts mit Prof. Heike Klippel, HBK, und gefördert von der Thyssen Stiftung.
Unter "Video-Essay" versteht man im Allgemeinen eine Art der Filmanalyse, die nicht mit geschriebenem Text arbeitet, sondern stattdessen mit und aus dem zu analysierenden Material heraus Argumente formuliert. Dabei haben sich unterschiedlichste Formen entwickelt, und mittels digitaler Medien wurde ein breites Spektrum dieser visueller Aneignungsformen möglich – Videokompilationen, Samplings, Remixes, Reboots, Mashups, kurze Clips und andere Kombinationen aus Text, Ton und Bild.
Diese Formenvielfalt wirft eine Reihe von Fragen auf, die in dieser Konferenz diskutiert werden sollen – von Veränderungen in Rezeption und Distribution, Fragen der Recherche, des Lehrens und Lernens, bis hin zu Problemen des Copyrights und des Zitierens.
https://www.hbk-bs.de/aktuell/veranstaltungen/details/24358/
https://magazin.tu-braunschweig.de/event/videographic-criticism/
Automatisierte Kreativität in Literatur und Musik - MWK fördert Untersuchung zur Rolle des Computers bei kreativen Prozessen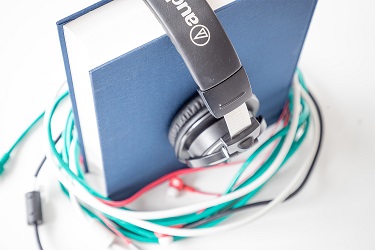 Künstliche Intelligenz und Algorithmen werden immer deutlicher Teil des Alltags. Ein Projekt der Technischen Universität Braunschwieg untersucht Formen und Auswirkungen von algorithmischer Kreativität aus kultur- und geisteswissenschaftlicher Perspektive. Eckart Voigts, Jan Röhnert und Dietmar Elflein von der Fakultät für Geistes- und Erziehungswissenschaften erhalten dafür eine Förderung durch das Niedersächsische Ministerium für Wissenschaft und Kultur (MWK).
Bereits lange vor der Selbstverständlichkeit der Digitalisierung experimentierten Musikerinnen und Musiker, Schriftstellerinnen und Schriftsteller mit automatisierter Kreativität. Das vom MWK mit maximal 500.000 Euro geförderte Forschungsprojekt von Professor Eckart Voigts vom Institut für Anglistik und Amerikanistik, Professor Jan Röhnert vom Institut für Germanistik und apl. Professor Dietmar Elflein vom Institut für Musik und ihrer Vermittlung analysiert Automatisierung in Musik und Literatur. Die Forscher beschreiben, wie dadurch etablierte Praxen, Ethiken und Konzeptionen ergänzt, überlagert und transformiert werden.
"Wir wollen schauen, was sich hinter dem Schlagwort der 'Künstlichen Intelligenz' verbirgt, nämlich eigentlich aufgrund von Erfahrungswissen "lernende" Computerprogramme. Wir fragen, welche sozialen, kulturellen und ästhetischen Veränderungen der Einsatz solcher neuronalen Netze und ihrer Vorläufer in Bereichen kreativen Arbeitens wie Musik und Literatur historisch bewirkt haben, was sie jetzt gerade verändern, und auch, wie wir uns die Zukunft maschineller Kreativität vorstellen könnten", sagt Professor Voigts.
Dabei konzentriert sich der Teilbereich Literatur auf die Aufarbeitung maschineller Schreibkreativität, von ihren historischen und theoretischen Anfängen in den Automaten des 17. und 18. Jahrhunderts bis zu den Deep-Learning-Anwendungen des 21. Jahrhunderts. Der musikwissenschaftliche Teil des Projekts will Veränderungen des Kreativitätsdispositivs in verschiedenen Bereichen musikalischen Schaffens im Spannungsfeld von populärer Musik und zeitgenössischer E-Musik nachspüren.
Mit der Ausschreibung "Geistes- und Kulturwissenschaften – digital" unterstützt das MWK innovative Projekte zu neuen Forschungsmöglichkeiten, die sich durch den Einsatz digitaler Methoden ergeben und die damit verbundenen Veränderungen durchdenken. Im Zuge des Programms fördert das MWK insgeamt 13 Forschungsprojekte niedersächsischer Hochschulen und Forschungseinrichtungen mit insgesamt rund sechs Millionen Euro aus dem Niedersächsischen Vorab der VolkswagenStiftung.
Gefördert werden grundlagen- und anwendungsorientierte Projekte, die eine enge interdisziplinäre Zusammenarbeit zwischen den geistes- und kulturwissenschaftlichen und technischen Disziplinen beinhalten.