This is Braunschweig
■ part of Europe's strongest research region
■ history of the city goes back to the year 1031
■ big city with lots of parks and short distances
■ extensive sports, cultural and nightclub opportunities
■ excellent connections to destinations such as the Harz Mountains or the capital Berlin
Discover Braunschweig
Braunschweig is a historical student city with about 23,000 students at two universities: TU Braunschweig and Braunschweig University of Fine Arts. With its approximately 250,000 inhabitants, the city combines all the advantages of a major city with short distances and numerous public parks.
Culture and Nightlife
Braunschweig is the largest city between Hanover and Berlin, its cultural life is both diverse and of high quality. Theatres and museums invite you to visit, as do concert halls and cinemas.
Thanks to the large number of students in the city, Braunschweig has a lively and colourful nightlife: You will find all sorts of clubs, ranging from mainstream to alternative to electro, from pubs to jazz clubs. If you're looking for recommendations for going out, the Erasmus Student Network is a good place to find one. And if you are looking for something a bit different at the weekend: The German capital Berlin is only a 90-minute train ride away.
The city's theatres also have a lot to offer, from modern and classical plays to dance, opera and concerts: The State Theatre was established as early as 1861, and there are also many smaller venues such as the LOT Theatre or the Komödie am Altstadtmarkt. If you are looking for something a little quieter, you will find that the city's twelve museums are a great place to visit. Film fans get their money's worth in the local cinemas "Astor" and "Universum" and should definitely visit the annual International Film Festival, the oldest film festival in Lower Saxony. More than 27,000 visitors are drawn to the festival every year when film stars such as Stellan Skarsgard, John Hurt, Mads Mikkelsen or Isabelle Huppert pay a visit.
Oops, an error occurred! Code: 20231002030541bc6ba551
Sports and Outdoor Activities
For those who prefer to be outdoors rather than going to the movies, Braunschweig won't disappoint either. The city is known for its many parks and recreational spaces and is home to a number of top sports clubs.
The river Oker, which springs in the Harz Mountains and flows into the Aller about 40 km northwest of Braunschweig, surrounds the city centre with its historic canals. Alongside disused railway tracks, the approximately 19 km long and greened "Ringgleis" invites you to circle the city centre by bike. In the whole city area there are also around 20 parks, which are ideal for strolling, jogging or barbecuing.
The many sports clubs and fitness studios in Braunschweig also offer innumerable possibilities for sporting activities. Whether Aikido or American Football, crossfit or frisbee, rowing or tennis: there' s something for everyone. Naturally, the university sports facilities are particularly attractive for students and staff of our university. They are inexpensive and open to all members of the university.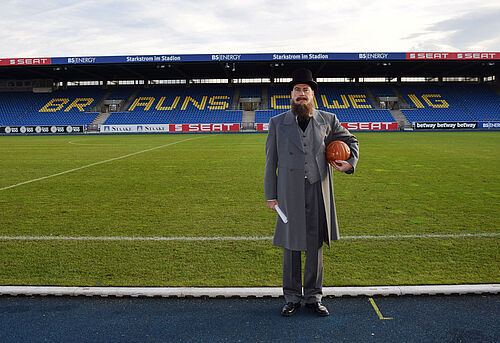 And since you can also watch sports very well without having to take action yourself, we gladly recommend a visit to Braunschweig's elite sports clubs: Eintracht Braunschweig is a traditional German soccer team and plays in the 2nd Bundesliga, the Basketball Löwen Braunschweig brought forth NBA stars such as Dennis Schröder and Daniel Theis, and the American footballers of the New York Lions have been among Germany's elite for years. By the way: Did you know that Braunschweig is the cradle of German soccer? In 1874, teacher Konrad Koch organized the first soccer match on a field that is now part of the TU Braunschweig campus. One year later he published the first version of the German soccer rules.