Introduction
Practical work in companies and industrial enterprises is an important prerequisite for successful studies. The internship in our Bachelor's programmes is divided into a basic and an engineering internship. In order to ensure a speedy course of study, part of the internship must be completed before the start of studies in accordance with the admission regulations. The contents of this so-called Pre-study internship should preferably be chosen from the area of the basic internship. The internship guidelines contain criteria for suitable companies.
The following overview shows which areas belong to the basic or engineering internship: Download Graphical Overview
The basic internship serves as an introduction to industrial production and thus to impart essential elementary knowledge. The engineering internship is intended to impart knowledge of the technologies as well as to introduce students to problems of business organisation.
All Documents and Guideline Internship - please follow this link
Internship Online
All internships (except pre-study internships) must be registered before the start of the internship under Praktikum Online. This will tell you whether your internship will be recognised.
Following the online registration, your supervisor or the internship company will receive confirmation of the compulsory internship (see sample here) and an internship certificate.
To use Praktikum Online, you need access authorization from the computer center (y-number) and a TAN.
First-year students complete the pre-study internship before they are enrolled and register for it later after they have received their admission authorisation and their TAN at the beginning of their studies.
Functions of Internship Online:
Register internships online
Upload internship report
view the current personal internship overview
Search for suitable internship companies
Further information on reporting and recognition, as well as forms and samples, can be found on the General downloads page.
Searching for companies
The Faculty of Mechanical Engineering does not arrange internships. It is recommended for searching:
Documents and forms in connection with your studies and internships can be found on the General Downloads page
Welding internship
In cooperation with the Institute of Joining and Welding, the Faculty of Mechanical Engineering regularly offers a welding internship for students of our faculty in the winter semester. Apart from a short theoretical introduction, the course mainly focuses on the practical exercise of the different welding processes. After complete participation the course can be recognized as a one week part of the basic internship (thermal joining / cutting process) in the Bachelor's programmes of the Faculty of Mechanical Engineering. All students of the Faculty of Mechanical Engineering who wish to extend their practical skills in the field of welding are also welcome.
Note for winter semester 2020/21: (Update 02.03.2021)
Due to the pandemic situation, the welding course 3 (22.03.2021 - 01.04.2021) is cancelled.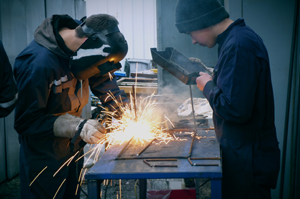 Recognition of apprenticeships and practical work
For recognition, please submit your complete training documents (original) to the SERVICEteam of the Faculty of Mechanical Engineering at the beginning of your studies.
Service and advice
Schleinitzstraße 20, 38106 Braunschweig