A first look for students of the TU
Your central learning and knowledge space
With over 900 learning places, 2.6 million printed and digital books, and more than 107 open hours per week, the University Library (short UB) is your central learning and knowledge space at the TU Braunschweig. We offer you a place to study in a concentrated and quiet atmosphere and help you with your homework.
With our courses and guided tours, we give you a practical introduction to literature management software, scientific work and the use of library research tools such as the catalog or the search in databases and electronic journals.
Study & Work
The UB offers you over 900 learning places on 4 floors. There is WLAN access via eduroam, several printers, copiers and scanners can be used.
Literature research & loan
You can search our complete literature stock via our catalog. In addition to the classic lending of our print media, we offer you access to our digital media, even from the comfort of your own home via a VPN client.
Tours & Courses
To support you during your studies, we offer library tours, courses on scientific work, research tips and training on literature management programs such as Zotero or Citavi.
Literature Tips for New Brunswickers
Our colleagues from the Information Literacy Department and the Information and Learning Center have compiled useful literature for newcomers to Braunschweig and made it available to you in a blog post. In addition to a short description, you will also find a link to our catalog, where you can make a note of the book's location and, of course, take the opportunity to look at other specialized literature about Braunschweig.
If you have any comments or further ideas, we would be very happy about your comments in our blog (login via your GITZ account).
---
Information in the entrance area of the UB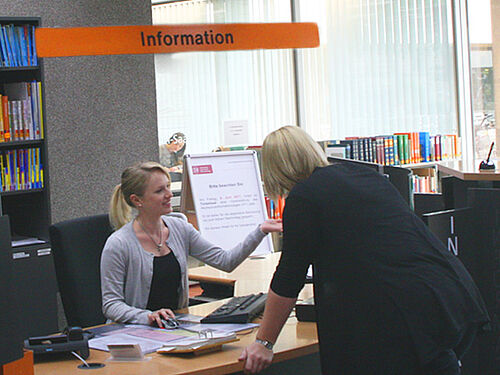 Helps you with research or questions about studying and working, among other things.
The information desk is staffed Mon-Fri 9 am - 7 pm and Sat 10 am - 1 pm.
Phone: +49 (0) 531 391-5018
Lending desk on the first floor of the UB
Answer your questions about your account, borrowing or your user card.
The circulation desk is open Mon-Fri 9am-1pm and Sat 10am-1pm.
Phone: +49 (0) 531 391-5017