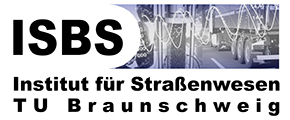 About us

Institute profile
The ISBS is a competence centre for developing new techniques to stabilize pavement structures used in transportation engineering. The transportation infrastructure of highways, airports and docks demands a design that leads to safe, functional and durable pavements. These requirements are crucial for any future developments in transportation engineering, particularly since a huge amount of public money is involved in the design and maintenance of sustainable pavement structures.

The contribution of ISBS in teaching and research is a scientific acquisition of data of the variables of traffic and climatic demands of the pavement constructions and the description of the complex load and time dependent material- and structural behaviour. With particular regard to the aspects of sustainability and durability of construction materials and construction principles are systematically optimized and new construction methods and maintenance strategies are developed.

In the focus are highly loaded pavement structures for streets and air traffic structures of the flexible construction method using asphalt materials. In the domain of the experimental bitumen and asphalt mix research an international renowned research tradition exists at ISBS.
Mission Statement
The strategic orientation of the Braunschweig Pavement Engineering Centre is to be:
an innovative, competitive research institution, which uses state of the art technology; its particular strength is in the collaboration of scientific research and practical application.
a reliable partner for the building industry in research and development.
a renowned meeting-centre for teaching of national and international students.
an interesting field of activity and an attractive field for the training and further education of excellent staff members.