InnoRec – Innovative recycling processes for new lithium cell generations
Contact person:
Due to the increasing mass production of lithium-ion batteries and their use in many areas of life (e.g. e-mobility), a large number of end-of-life batteries can be expected in the near future. Their raw materials (Li, Ni, Co, Mn, Al, Cu, graphite, etc.) must be returned to the material cycle in order to achieve a closure of the recycling economy in the sense of sustainability. With a simultaneous increase in the complexity of the materials used (anode-side use of silicon, solid-state electrolytes, etc.), there is a need for constant further development or linking of existing recycling processes.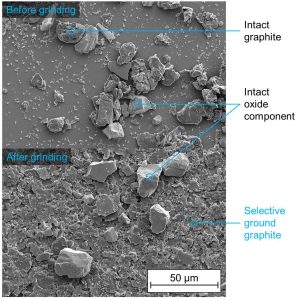 Figure: Selective grinding of graphite in a two-component mixture (battery graphite and oxidic model material)
The aim of the InnoRec project is therefore to gain a data basis for the development of a new recycling platform. The comparative studies on different recycling strategies (mechanical, thermal, hydrometallurgical process routes as well as hybrid processes) are therefore planned and realized in terms of a holistic approach. The iPAT is mainly concerned with the selective fine grinding of black masses (see figure) and the targeted comminution of slags, which are produced by different recycling process routes and have to be prepared for the following hydrometallurgical steps to enable and icrease the recovery of valuable resources.