Quality seal for university foreign language training
UNIcert® is a quality standard for foreign language training at universities that prepares students for the requirements of a degree course as well as for a future professional career in a foreign language.
The UNIcert® system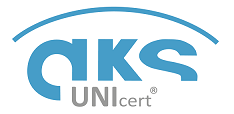 The UNIcert® certification system under the umbrella of the Arbeitskreis der Sprachenzentren an Hochschulen e.V. (Working Group of Language Centres at Universities) (AKS) is based on a framework agreement between leading German universities and colleges. Its aim is to promote the same standard of language training across universities and thus enable seamless transitions to foreign language training at another university. The Unicert certification systems is therefore also accepted outside the universities. The Language Centre of the TU Braunschweig has been UNIcert® accredited since 1998. Accreditation is granted for a maximum of five years and is then reviewed again. This ensures a consistently high quality of language training at the participating universities.
UNIcert® forms the Network of University Language Testers in Europe (NULTE) in cooperation with UNIcert®LUCE (Slovakia and Czech Republic and Acert (Poland), CertAcles® (Spain), CLES (France) and UNILANG (United Kingdom and Republic of Ireland). This means that uniform quality standards for university-specific foreign language certificates as well as core elements such as accreditation/peer review are specified internationally.
The UNIcert® system comprises five levels of competence, which are based on the Common European Framework of Reference for Languages (CEFR):
The UNIcert® Certificates in Foreign Languages
The TU Braunschweig is currently UNIcert® accredited in Chinese, English, French, Italian, Russian, Swedish, Spanish and German as a foreign language. If you want to obtain a UNIcert® certificate in one of these languages, you must successfully complete a certain number of language courses. For levels III and IV, you must take an additional UNicert® examination. You can find an overview of the requirements here. More information can be obtained from the respective language section and the respective language section heads.
Registration
Please submit the completed registration form together with your course certificates to the head of the respective language section. Once your registration has been approved, please transfer the fee for the Unicert certificate in order for your registration to be processed further.
Registration Deadlines
UNIcert® Basic, I und II:
Registration is possible at any time after the completion of the required courses.
UNIcert® III und IV (derzeit nur in Englisch):
Anmeldeschluss ist jeweils der letzte Samstag der Vorlesungszeit.
---
Examination and Language Training Regulations
UNIcert® foreign language training at the TU Braunschweig is bindingly regulated in the UNIcert® examination and training regulations. Here you will also find detailed information on levels, admission requirements, creditable courses and examination modalities:
UNIcert®-Prüfungsordnung (PDF, 703 KB, German)
UNIcert®-Ausbildungsordnung (PDF, 1.65 MB, German)
UNIcert®-Musterzertifikat (PDF, 307 KB, German)
UNIcert®-Code of Practice (PDF, 95 KB, German)
Additional information can always be found on the UNIcert® website.
---