Pharmaceutical Engineering
Pharmaceutical Engineering
Pharmaceutical Engineering
General Information
Documents and forms for the Master's programme Pharmaceutical Engineering (admission regulations, examination regulations, module handbook, etc.) can be found on the page Documents.
Information on the registration for courses in pharmacy and the course schedule can be found on the website of the Faculty of Life Sciences.
The last enrolment in the degree programme "Pharmaceutical Engineering" took place in winter semester 2021/22.
The new Master's programme "Pharmaceutical Process Engineering" will start in the winter semester 2022/23. More information will be available here shortly.
Structure of the Master's degree programme Pharmaceutical Engineering
The Master's degree programme Pharmaceutical Engineering is aimed at graduates of study programmes with Process Engineering and/or pharmaceutical contents. In order to take the different levels of education of the students into account, Complementary Qualifications have to be taken, mainly in the first semester. In this area, students learn the missing fundamentals before some compulsory lectures in the second and third semester teach the core competences for pharmaceutical engineers.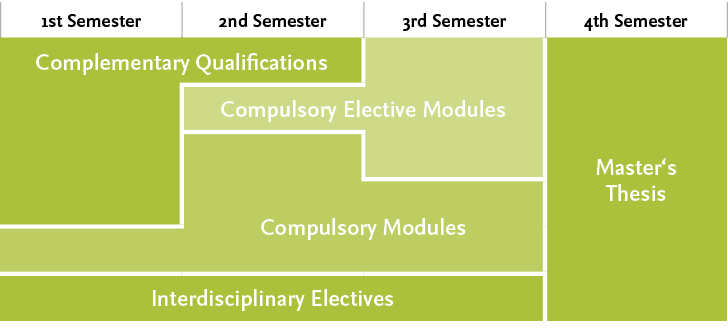 The Compulsory Modules are accompanied by Interdisciplinary Electives as well as Compulsory Elective Modules in which students can deepen their personal interests. Students complete their studies with a Master's thesis, in which they independently work on concrete questions of current research projects.
Access and Admission Requirements
The Master's programme Pharmaceutical Engineering is a consecutive course of study for students who have obtained a first professionally qualifying degree (e.g. Bachelor) in a course of study with a background in Natural and Pharmaceutical Sciences and/or with a background in Engineering and Process Engineering. A course of study has a background if at least 50 credit points have been earned in Pharmaceutical and/or Process Engineering subjects.
By offering the individually designed basic part, the course of studies is also open to students whose previous education is limited to Pharmacy orProcess Engineering.
In addition to the usual application documents, a letter of motivation has to be submitted, which will be graded and will be part of the final grade.

---
Service and advice
Schleinitzstraße 20, 38106 Braunschweig