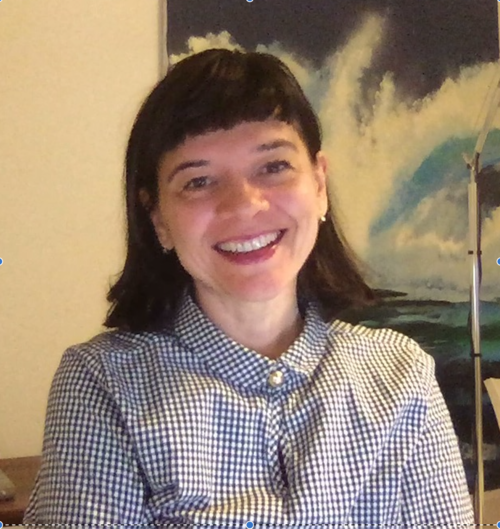 Professor Admela Jukan

Room: 11.09
Telefon: +49 531 391 3735
E-Mail: a.jukan(at)tu-bs.de

Technische Universität Carolo-Wilhelmina zu Braunschweig
Lehrstuhl für Kommunikationsnetze
Institut für Datentechnik und Kommunikationsnetze
Hans-Sommer-Straße 66
38106 Braunschweig
Biography
Admela Jukan is Chair Professor of Communication Networks at the Technische Universität Carolo-Wilhelmina zu Braunschweig (Brunswick) in Germany. Prior to that post, she was research faculty at the Institut National de la Recherche Scientifique (INRS) and Georgia Tech (GaTech). She was a visiting scientist at Bell Labs, Holmdel, NJ, at University of Illinois at Urbana Champaing (UIUC) and MIT. From 2002-2004, she served as Program Director in Computer and Networks System Research at the National Science Foundation (NSF) in Arlington, VA.
Professor Jukan is a Fellow of the IEEE. She serves as Senior Editor in the IEEE Journal of Selected Areas in Communications. She is a co-Editor in Chief of the Elsevier Journal on Optical Switching and Networking (OSN). She was an elected Chair of the IEEE Optical Network Technical Committee, ONTC (2014-2015). She has chaired and co-chaired several international conferences, including IEEE/ACM IWqoS, IEEE ANTS, IFIP ONDM, IEEE ICC and IEEE GLOBECOM. She is recipient of an Award of Excellence for the BMBF/CELTIC project "100Gb Ethernet" and was also awarded the IBM Innovation Award (2009). She was Dean of Studies for a joint degree program between computer science and engineering (IST, 2017-2019). Prof. Jukan was an elected Distingueshed Lecturer of the IEEE Communications Society, 2015-2017.
Admela Jukan received her Dr.tech. degree (summa cum laude) in Electrical and Computer Engineering from the Technische Universität Wien, the M.Sc. degree in Information Technologies from the Politecnico di Milano, Italy, and her Dipl. -Ing. degree from the Fakultet Elektrotehnike i Racunarstva (FER), in Zagreb, Croatia.
Research
Prof. Jukan's research group is active in research areas related to theory and practice of signaling protocols, engineering of network and computing systems, next generation network software platforms, as well as system performance analysis. Her interests are in collaborating within multidisciplinary research teams in engineering and computer science, as well as in applying computer network engineering in other disciplines.
She blogs about animals in computing and welcome collaborations in animal-computer interaction: https://animals-in-computing.com/
Prof. Jukan teaches an IoT-edge-cloud computing contiuum hands-on lab, with the text book recently published by Springer, i.e.,
A. Jukan, X. Masip-Bruin, J. Dizdarević, F. Carpio, "Network of Things Engineering (NoTE) Lab", Springer, 1st ed., 2023. ISBN 3-031-20634-7.
New!! HORIZON-RIA EU Project MANOLO - 101135782 - GAP-101135782 "Trustworthy AI Toolset for Efficient Cloud-Edge Computing," 2023-2026.
New!! HORIZON-RIA EU Project (CyclOps - 101135513 - GAP-101135513) "CyclOps: Automated end-to-end data life cycle management for fair data integration, processing and re-use" 2023-2026.
HORIZON-RIA Project (101096342) "HORSE: Holistic, Omnipresent, Resilient Services for future 6G Wireless and Computing Ecosystems," 2022-2025.
HORIZON-RIA Project "ICOS: Towards a functional continuum operating systems ," 2022-2025.
BMBF Project "6G -ANNA: 6G-Access, Network of Networks, Automation & Simplification," 2022-2025.
BMBF Project "6G -RIC: Campus Network Autonomous Platforms and Operations ," 2021-2025.
EU-Project "FISHY: A coordinated framework for cyber resilient supply chain systems over complex ICT infrastructures, " 2020-2023.
German Science Foundation (DFG), Project entitled: DFG - FOR 2863 - Metrology for Parallel THz Communication Channels, Project nr. JU2757/12-1, 2019-2022, 2023-2025.
Volkswagen Foundation, VW Stiftung, Project entitled: Animal-Cyber Systems (ACS) - Gaining Access to Farm Animal Welfare, 2019-2020.
H2020 EU, Project entitled: mF2C: Towards an Open, Secure, Decentralized and Coordinated Fog-to-Cloud Management Ecosystem, 2017-2019.
BMBF - PLANETS-SENDATE - SEcure Networking for a DATa center cloud in Europe - 2016-2019
DFG - New Horizons in Optical Networking with Elastic Spectrum Allocation and Parallel Transmission - 2015-1017
Volkswagen Foundation, VW Stiftung, Project entitled: Animal-Cyber Systems (ACS) - Gaining Access to Farm Animal Welfare, 2019-2020.
Coordinator EU Project Project PACE (www.ict-pace.net), Nr. 619712, (2014-2016), Project entitled: Next Steps in PAth Computation Element (PCE) Architectures: From Software Defined Concepts to Standards, Interoperability and Deployment, Partners from industry: Telefonica, Orange, Old Dog Consulting, Nextworks.
BMBF Project SASER-SIEGFRIED, Nr. CPP2011/2-5 (2012-2015), Project entitled: Safe and Secure European Routing - Security and Energy Efficiency in Flexible and Resilient Data Networks, Industrial sponsor: Nokia Siemens Networks.
Coordinator: EU Project ONE (www.ict-one.eu), Nr. 258300 (2010-2013), Project entitled: Towards Automated Interactions between the Internet and the Carrier-Grade Management Ecosystems, Partners from industry: Telefonica, ADVA, Juniper.
EU Project TEFIS, Nr. 258142 (2012-2013), Project entitled: Experimenting with Quagga Open API and Cross-layer Coordinated Networks Partners from industry: THALES Services SAS, Engineering Ingegneria Informatica S.p.A., IT Innovation, ActiveEon, Software Quality System S.A, Megve Tourisme.
EU Project Geysers (IP), Nr. 248657 (2009-2012), Project entitled: Generalized Architecture for Dynamic Infrastructure Services, Partners from the Industy: Telefonica, Interroute, SAP, ADVA, Nextworks.
X10 Media Composer (IBM Innovation Award)
(Received AWARD OF EXCELLENCE in 2011) 100 Gb/s Carrier-grade Ethernet (awarded by BMBF)
German Science Foundation (DFG) and State of Sao Paulo Research Foundation (FAFESP) in Brazil, Project entitled: Inter-domain Peering and Provisioning in Optical Networks, in collaboration with Prof. Nelson Fonseca, University of Campinas, Brazil, 2008-2011. Basic Research.
Editorial Service
Senior Editor, IEEE Journal of Selected Areas in Communications, since 2014
Steering Committee, IEEE Network Letters, since 2018
Editor in Chief, Journal of Optical Network Switching and Networking, Elsevier, since 2012
Technical Editor, IEEE Communications Magazine, 2007-2015
Senior Editor, IEEE Surveys and Tutorials, Journal, 2008-2012
Editor, IEEE Network, Journal, 2008-2014
Publications
Teaching
Group
Hiwis, tutors and associated group members (in order of joining the group):
Marla Grunewald (Msc student)
Fin Gentzen (Msc student)
Khiet Nhi Thang (Bsc student)
Information for Prospective Students
In case you are interested in pursuing your PhD, MSc or BSc studies under my direction, or in joining my group as a visiting scholar, please send your inquiry to me and include the following material (in English or German):
complete and detailed resume (CV)
complete educational transcripts including grades/degrees awarded
a description of your past experience relevant to communications, computing and networking, if any
list of three references along with their affiliations and contact addresses (we may or may not contact them)
a write-up not to exceed 1 page that covers your expected research area.
Note that all applicants sending complete material as listed above will receive responses and that within four weeks of the application. The evaluations of applications will be conducted once a month. Keep in mind that the only material we have for assessing your qualification is the information that you provide. Make every effort to write your material well. For further information, please also check our general University admission procedure.
Information for Visitors
Arriving from Frankfurt, Berlin and Munich (international). Most airlines have non-stop flights to Frankfurt, Berlin and Munich from most of the US and Asian cities. Once you are at the Frankfurt airport, you can take the airport train to the Frankfurt Main Station (Hauptbahnhof), and from there a non-stop train connection to Braunschweig (duration about 3.5 hours). From Berlin: 2 hrs. Alternatively, it is possible to fly to take a connecting flight to Hannover (HAJ), see below.

Arriving from Hannover International Airport (around 60 km, 37 miles). If you decide to take a connecting flight, the easiest way is to take the airport train to the Main Station (Hauptbahnhof) in Hannover, and connect to train to Braunschweig (every 30 mins). You will need a good hour to get to Braunschweig. Alternatively, a few shuttle/taxi providers are easy to find at the arrival gates.
Alumni (chronologically)
Simon Phillip, Msc thesis: "Communication protocol evaluation based on energy models of the IoT application,", Sept 2021.
Ousamma Chebi, Bsc thesis: " Implementation of an Intent-Based Translator of Security Appliances for Supply Chains of ICT systems," Sept 2021.
Ben Taarit Ousamma, Bsc thesis: "Implementation and Benchmmarking of the SVD methods for adaptive THz Systems," May 2021.
Marc Michalke, Msc thesis: "Evaluating Serverless Functions in an Edge to Cloud System," March 2021.
Shadi Kataa, MSc thesis: "Experimentally Benchmarking MQTT and HTTP/3 (HTTP OVER QUIC) in edge-to-cloud systems," Sept 2020.
Anna Engelemann, Dissertationsarbeit (mit Auszeichnung): "An Analytical Framework for Evaluation of Reliability and Security in Advanced Network Systems," June 2020.
Fredrik Schaefer, MSc thesis: "Applicability of methods from predictive policing and machine learning in rescue services: a case study with emergency data from Braunschweig," May 2020.
Marta Delgado, MSc thesis: "Engineering and Experimentally Benchmarking a Container-based Edge Computing System," March 2020.
Sandeep Singh, Dissertationsarbeit (mit Auszeichnung): "Stochastic Analysis and Learning-based Algorithms for Resource Provisioning in Optical Networks," June 2019.
Pablo Garcia, Bsc thesis: "Using Machine Learning for Animal Recognition in Smart Farms System," Oct 2018.
Askri Ahlem, Msc thesis: "Development of a blockchain system as a distributed database for IoT devices,", Nov 2018.
Moertadha Dhkar, Msc thesis: "An experimenta testbed of an early warning system with wireless sensor network and machine learning," Aug 2018.
Pablo Garcia Sanchez, Msc thesis: "Using Machine Learning for Animal Recognition in Smart Farming Systems,", Aug 2018.
Mounir Bensalem, Msc thesis: "Heuristic Machine Learning-based Algorithm for Replication of Virtual Network Functions," Nov 2017.
Zied Naceur, Msc Thesis: "Smart Fog-to-Cloud Computing Systems for Animal Welfare,", Oct 2017.

Jasmin Schudrowitz, Msc thesis: "Smart Fog Devices for Animal Welfare Monitoring," Sept 2017.

Marta Delgado, Bsc thesis: "Load balancing data center networks using SDN-NFV-based solutions," March 2017.

Marcel Caria (Dr.-Ing), Dissertationsarbeit (mit Auszeichnung): "Analysis and optimizatios of hybrid software defined networks," 2017.
Samia Dhahri, Msc thesis: "Design and implementation of an algortihm for the dynamic placement of parallel VNFs," 2016.
Siqian Zhao, Msc thesis: "Improving Security in Optical SDN Networks with Random Forwarding and Multipath Routing," 2015.
Yuesheng (Jason) Zhong, Msc thesis: "Hyrbid SDN-OSPF," 2015.
Tamal Das, post-doc 2012-2015, now at IIT Bombay.
Alex Hoffmann, Msc thesis: "Entwicklung eines Management Frameworks zur Bestimmung der IP Traffic Matrix mit SNMP- und OpenFlow-basierten Messungen am optischen Bypass," 2014
Xiaomin Chen (Dr.-Ing), Dissertationsarbeit (mit Auszeichnung): "Performance Analysis of Parallel Transmission and Multipath Routing in High-Speed Network Systems," 2014.
Fran Carpio, Msc thesis: "Network Migration to Energy Efficient Operation," 2014.
Anna Engelmann, Msc thesis: "Applications of Linear Network Coding in High-speed Ethernet Systems," 2014.
Mohit Chamania (Dr.-Ing), Dissertationsarbeit (mit Auszeichunung): "Multi-layer architecture and System Design of Internet Protocol (IP) and Optical Networks ," 2013.
Jason Zhong (Bsc Student), Thesis: "Path Computation Element (PCE) extensions to clouds," 2013.
Marek Drogon (Msc Student), Msc thesis: "Performance evaluation of an agent-based model of network migration to new technologies," 2012
Sonia Pardo (Msc student), Msc thesis: "A study on benefits of parallel transmission in Inter-data center communication," 2012
Anna Engelmann (Bsc student), Bsc thesis: "Optimal Time Quantization for Load Adaptive Energy Saving in IP Networks", 2011.
Lorena Vives (Bsc student), Bsc thesis: "A Service Level Agreement (SLA) Framework for Cloud Computing", 2011.
Irene Leal (Bsc student), Bsc thesis: "A Service Level Agreement (SLA) Framework for Cloud Computing", 2011.
Emir Demirbildek (MsC Student), Msc Thesis: "A BPEL Framework for Cross Layer optimization in IP over Transport Networks", 2011.
Marek Drogon (Bsc student), Bsc thesis: "Path Computation Element (PCE) Emulator", 2011.
Said Zaghloul (Dr.-Ing.), Dr. -Ing. Thesis: "Design and implementation of AAA Systems in Mobile Telecommunication Networks", 2010.
Silvana Greco Polito, PhD (postodoctoral fellow, now with Univ. Enna, Italy), 2009-2010.
Marcel Caria (Diplomarbeit), Diplomarbeit: "Effective Usage of Dynamic Circuits for IP Routing", 2010.
Dennis Gebbers (Msc student), Msc Thesis: "Performance Study of Adaptive Advance Reservation Techniques for Multi-Domain Quality-of-Service Provisioning", 2010.
Patricia Alves Pereira (Msc student, now with P3 Communications GmbH, Aachen), Msc thesis "Technical and Business Challenges for Future Wireless Car-2-X Services", 2009.
Jose Ignazio Aznar (Msc Student, now in Spain), Msc Thesis: "A PROACTIVE SIGNALING MECHANISM FOR SERVICE ORIENTED QoS CONTROL IN FUTURE ALL-IP WIRELESS NETWORKS", 2008.
Shantanu Sunil Kelkar (intern, IIT Bombay)
Andre Drummond (Exchange Student, Univ. Campinas, Brazil)
Ankit Singla (intern, IIT Bombay)