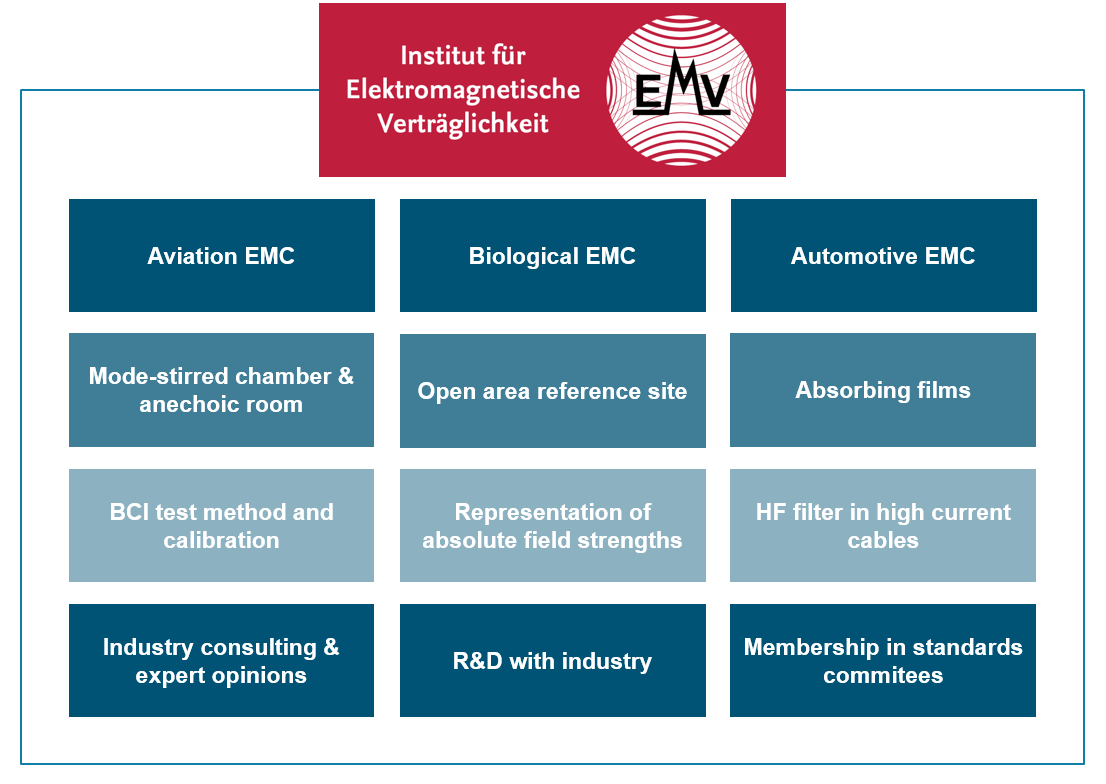 The Institute for Electromagnetic Compatibility is headed by Prof. Dr. rer. nat. Achim Enders and Prof. Dr.-Ing. Michael Terörde and covers an interdisciplinary field of expertise. It is subdivided into the section for Electromagnetic Compatibility under Prof. Dr. Achim Enders and the section for Mobile Electric Energy Systems under Prof. Dr. Michael Terörde.
Competences of the Institute for EMC
EMC - an interdisciplinary field
EMC is an interdisciplinary science which embraces numerous research areas. Consequently the projects at the Institute for EMC are wide-ranging and multifaceted.
Our Equipment
The following measuring instruments and simulation tools are available at the Institute for EMC.
Device equipment for signal generation
Digital Vector Signal Generator from 300 kHz to 6,6 GHz
Signal generators for CW, AM and FM signals up to 20 GHz
Arbitrary waveform generator with maximum sampling rate of 65 GSA/s
Amplifier technology for Electromagnetic Immunity Measurements over 200 V/m up to 8 GHz
Amplifier technology for testing HF components
Available measurement environments
Shielded room (fieldvariable chamber respectively electromagnetic reverberation chamber) in the dimensions 11,0 x 7,6 x 7,1 m³ for electromagnetic immunity measurments at high field strengths (200 V/m, higher field strength possible if required)
Possibilities for analysis at a free field
TEM Cell and µ-TEM Cell
Other measurement technologies
Electro-optical field sensor system up to 3 GHz
ILS-VOR receiver for analysis
Impedance Analyzer (4 Point-Bridge Circuit) from 40 Hz to 110 MHz including BIAS-Tee for Bias-Currents up to 1000 A
Bit Error Rate Tester (BERT)
Power Quality measuring device technology incl. transient acquisition
Software
Numerical programs for field computation based on MoM (Concept) and FEM with time domain and frequency domain solver (CST-Microwave Studio)
In order to control the meters needed in our projects we develop demand-actuated software using mainly LabView and MATLAB. Part of the gathered data is immediately analysed and saved applying EXCEL. Thus automatized measurements are realised fast and securely.
Other Equipments
Two measurement vehicles for external measuring campaigns; one of them is equipped with a 10 kW three-phase generator in order to implement measurments autonomously from access to a power grid.
Further Activities
Cooperation in committees for EMC standardisation
DKE, CISPR, IEC, EUROCAE