Reminder Fakultät 6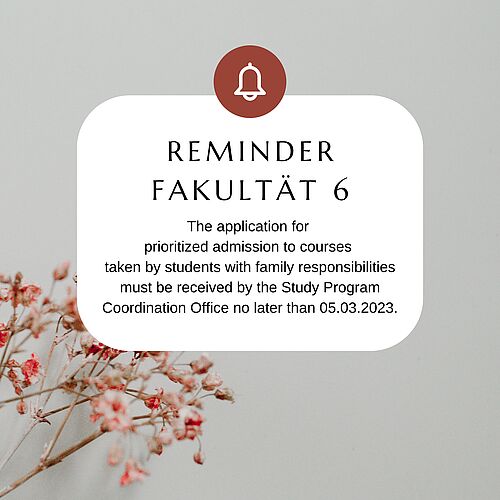 Students with children (up to their 14th birthday) or family members in need of care as well as students with health impairments or disabilities can apply for preferential admission to courses.
The application for preferential admission to courses including all supporting documents as well as the list of courses for students with family responsibilities must be received by the program coordination office no later than 05.03.2023.
Please be sure to observe the deadlines for submitting the application as well as the list of courses you have chosen, and be sure to read the relevant procedural descriptions carefully. The detailed information can be found on the faculty website.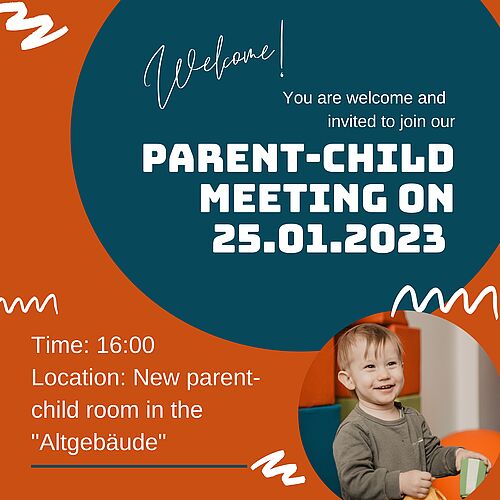 The first parent-child meeting of the new year will be held on Wednesday, Jan. 25, 2023, starting at 4:00 p.m.
We are very excited that this can take place in our new parent-child room at the main campus. You will find the new room on the first floor of the old building. Barrier-free access is possible if you use the back entrance in the basement. There you will find the elevator, which will take you upstairs with your stroller without any problems.
We look forward to seeing you too!
The new parent-child room in the old building is available for use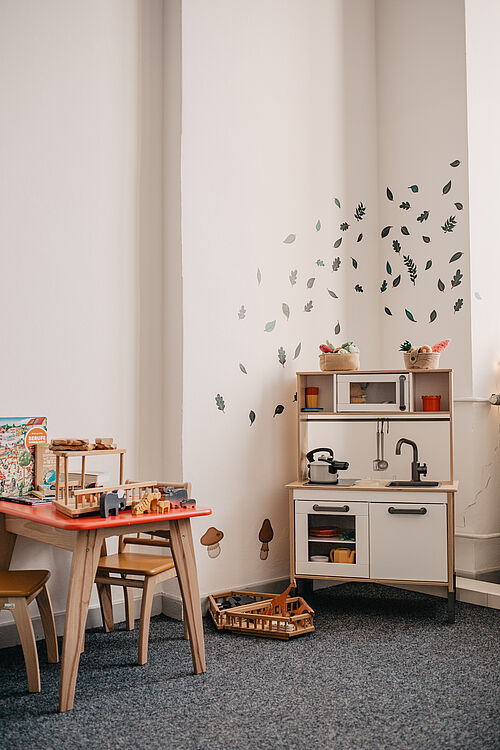 There is news: The new parent-child room in the old building is open!
In the context of the family-friendly university, the family office of the TU Braunschweig has set up a parent-child room in the old building, which can be used by both staff and students with their children. The room with the number -029 is located on the first floor and can be reached barrier-free via the rear entrance of the old building and the elevator. The key to the room is in a key box next to the entrance door. The code for the box is available upon request at the Family Office (0531 391-4536, familienbuero@tu-braunschweig.de).
After the water damage in the old parent-child room, we are very happy that the main campus now again offers a space for parents and children to work, play and take a break. We look forward to your requests!
Welcome Talk on Friday, 09.12.2022 in our new parent-child-room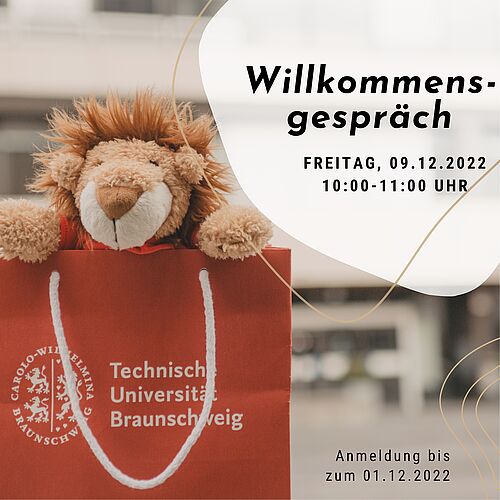 In the name of our President Professor Dr. Angela Ittel, we cordially invite all parents who have had "TU newborns" in the last two years to our welcome talk.
In a pre-Christmas atmosphere with hot drinks and cookies, we would like to exchange experiences as parents at the TU and give all guests the opportunity to get to know other parents and their children. In addition, we will introduce the new parent-child room in the old building.
When: 09.12.2022, 10-11 a.m.
Where: Old building (Altgebäude) of the TU Braunschweig, Pockelsstr. 4, 38106 Braunschweig, exact location to be announced.
Please register participation with number of persons to the family office until 01.12.2022 at: familienbuero@tu-braunschweig.de
Some children have not yet received a Baby Bag and will be able to pick it up on the date.
We look forward to getting to know you or seeing you again!
Performative short festival on the theme of gender.roles from 21 - 23.10.2022
Anna, Cathy and Sophie have developed three plays in which they have explored gender roles in a family context. These three plays will be performed at the LOT Theater on three different days.
There will also be a free accompanying program of presentations and a game evening.
Saturday, 10/22 |6:00 p.m. | LOT-Theater (admission free, no registration necessary)
Vortrag & Diskussion: You don't need to be superheroes |Presentation & Discussion: You don't need to be superheroes |Flora Brosza (research assistant at the Chair of Sociology - Work and Organization at the TU Braunschweig) will present the fathers' project "You don't need to be Superheroes". The project investigates what moves fathers in Germany and as well as the image of the modern and traditional father to expand the diverse life situations of fathers.

Saturday, 10/22 |7:30 p.m. | LOT Theater (admission free, no registration necessary).
Game Night: Identity Lotto | A board game about identity - gender - diversity. What is life like in a different identity? This question will guide you through the game. With your new, randomly chosen game identity you live in Germany (Austria, Switzerland) and go through different life themes like everyday life, self-image and family. In addition to daily life events, your game identity will encounter questions of life. We are looking forward to a board game night with small groups at tables, lively discussions and surprising insights.
You can find the entire program here. We hope you have fun and a stimulating time at the LOT Theater (Kaffeetwete 4a, 38100 Braunschweig).
Offers during the autumn vacations
The autumn vacations are just around the corner!
In addition to our fall holiday care (Herbstferienbetreuung) for TU children, there are numerous activities for relaxed or exciting days with and for children during holidays.
Here is a small overview of vacation activities in Braunschweig and the surrounding area.
Local Events:
We wish a lot of fun!
Save the dates: Parent-child meetings on 28.09. and 26.10.2022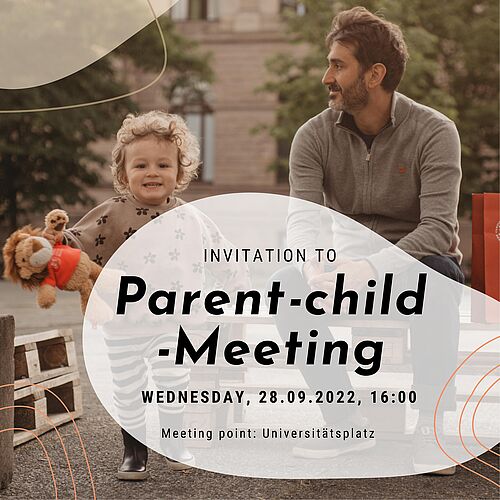 We would like to bring our parent-child meetings back to life!
The first meeting will take place on Wednesday, 28.09.2022 at 16:00.
We would like to offer you, all TU parents with child/ren, a setting to get together (again) in a relaxed atmosphere and to meet each other. We are also interested in how you are doing and what wishes and suggestions you have for the coming winter semester regarding your family issues.
If the weather is good, a playground exploration is planned! Meeting place is University Square at the main campus. Sign-up is not necessary - just show up with your child/children (and bring rainproof clothing for good measure).
Meetings are always scheduled for the last Wednesday of the month - the date for October is 10/26/2022.
We look forward to meet you!
Parent-and-child room in the old university building currently not usable!
Due to water damage, the parent-and-child room in the old university building can currently not be entered and used. We ask for your understanding and will inform you here as soon as the room is available again.
Doctoral Degree Grant for Female Doctoral Candidates
Doctoral Degree Grant are aimed at qualified young female scientists at the TU Braunschweig for whom the completion of the PhD has been delayed for family reasons or for reasons of particular hardship. The application deadline for a funding start between January and June 2023 is 30.09.2022. There will be a second application deadline in March/April 2023, so that further female candidates can start from July 2023.
More information about the application modalities on the program homepage: https://www.tu-braunschweig.de/chancengleichheit/gleichstellung/karrierewege/promotionsabschlussfoerderung
Holiday play schemes for schoolchildren during the autumn holidays 2022
In the second week of the autumn holidays, holidayplay schemes will take place in attendance, taking into account the distance and hygiene rules currently in force at the time. The offer is aimed exclusively at children of employees and students of the TU Braunschweig and the Studentenwerk Ost-Niedersachsen.
Movement, play and handicraft activities and excursions are planned. Before the childcare begins, children and parents receive a weekly plan with all the information.
The week takes place from 24.10. to 28.10.2022, time: daily from 7.30 a.m. to 4.00 p.m., cost per child and week: 60€.

A maximum of 12 children between the ages of 6 and 12 are cared for by three caregivers.

Premises
Seminar room in the Kita Zwerge, basement, Fallersleber-Tor-Wall 10

Corona-related safety precautions
Care will be provided in accordance with the regulations in force at the time of care. Parents and guardians will be informed in good time before the start of care about the modalities of possible safety measures (e.g. self-tests, mask and distance regulations).

Catering
Drinks are provided by the Studentenwerk. Children bring breakfast from home, lunch is provided by the refectory.


Registration
Registration is possible from 29.08.2022, 9.00 am.

Please send an e-mail to Jan Schwarz: kita.bs(at)stw-on.de (including the child's name and date of birth).
Diverse or polarizing? Fatherhood as a Reference Point for a Social Diagnosis. On the connection between teaching, research and science communication.
"You don't need to be Superheroes"
Under this project title, Dr. Kim Bräuer, project leader at the Institute of Sociology, is researching the diverse life situations of fathers. She will present initial results and an insight into scientific communication on this research topic on May 17 in the lecture "Vielfältig oder polarisierend? Fatherhood as a reference point for a social diagnosis. On the connection between teaching, research and science communication".
Picture books on the subject of war & flight
How do we talk to children about war and flight?
The images of the war in Ukraine are currently everywhere, and children are asking questions, wanting to know more and trying to understand what is happening. But how do we talk to younger children about the war without overwhelming them? The Association of Binational Families and Partnerships has put together a selection of 12 international picture books that can help children and adults.
Download the book list as a PDF file (unfortunately only available in German).
News and information from the Family Office also in the new TU Messenger
Since 01.02.2022, Matrix has gone live as the new TU Messenger and will replace the previously used Rocket.Chat in the future. Rocket.Chat will be switched off at the end of the summer semester 2022.
We invite all interested TU members with family responsibilities to our "Family Office" room, where we can share news and information and exchange ideas:
https://chat.tu-bs.de/#/room/#familienbuero:matrix.tu-bs.de
New mailing list for students with child(ren)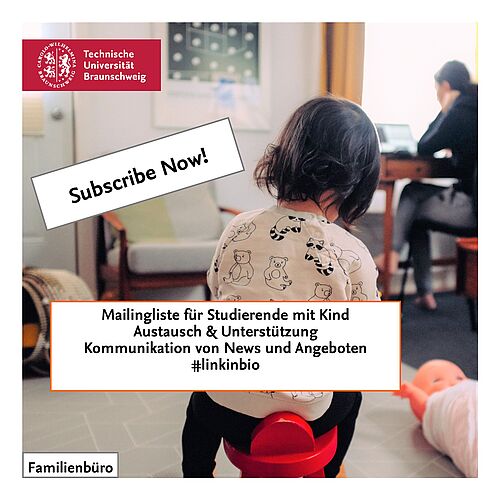 The new mailing list for student parents at the TU Braunschweig is here. In these times exchange and contact is more important than ever. After you have registered with a TU mail address, you can write your own contributions to the list and read the mails of other students with child(ren) and reply to them. This way, uncomplicated exchange is possible. Subscribe now!