Campus life and involvement
Learn more about our lively campus
■ TU-NIGHT as an annual major event
■ almost 90 student associations and initiatives
■ student representation by the AStA
■ 30 student councils
■ shaping the campus with "Sandkasten
There is more to being a student than studying
Naturally, studying in Braunschweig not only takes place in lecture halls and nightclubs: almost 90 student associations at TU Braunschweig offer you plenty of opportunities to get involved and make contacts beyond the daily routine of studying.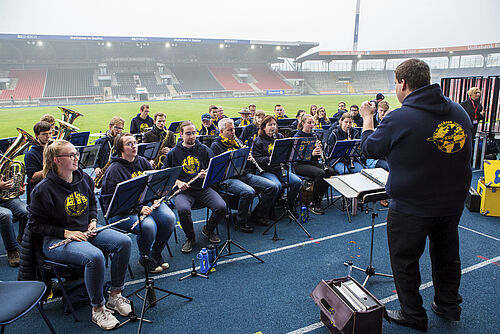 You can, for instance, get involved musically with AkaBlas, the orchestra or the choir of the university, support environmentally friendly projects with Enactus or help students on their way into professional life with Bonding. If you prefer experimenting, tinkering or programming, you can work on your own racing car with the Lions Racing Team, take off with Akaflieg or develop autonomous model cars with the CDLC team. And, of course, there are a whole range of other initiatives open to you.
Whether on stage, in workshops or in cockpits: 84 study programmes at our university naturally also contribute to the diversity and interdisciplinarity of everything that happens outside the lecture hall. As a student at TU Braunschweig, you have the opportunity to get involved wherever you want – either related to your subject or completely independent of it.
On this page you will find an overview of all student initiatives and associations at TU Braunschweig:
See overview(German)
The Campus lives from your ideas
A few semesters ago, students started using the "Sandkasten" (sandbox) project to implement smaller on-campus design projects - such as pallet benches on the university plaza or a bicycle repair station directly on campus. Sandkasten contributes significantly to campus life with its projects.
You can also play an active role in the development of our university by participating in a number of committees and commissions. The largest of those is the AStA (Allgemeiner Studierendenausschuss), the General Student Committee. The AStA is the official representation of our student body towards the university and politicians. If you want to get involved in your own area of study and help shape the future of your study programme, it is also worthwhile to get involved in the relevant student councils.
Whether in shaping the campus, active participation in committees and commissions or support for international students: in Braunschweig you will find freedom for active participation – and both the university and the campus need you as a student.
Sports
Whether you prefer the gym or fitness centre on campus, beach volleyball courts, sauna or even sailing or parachuting, with more than 200 classes per week in 100 sports, our Sports Centre offers the broadest sports programme in the region.
Events on Campus
At TU Braunschweig there are a variety of different events that are open to you as a student and to anyone who is interested - perfect for broadening your own horizons or discovering the campus from a different perspective together with your fellow students.
We consider it important to bring all members of our university together outside the lecture hall and to make what happens at our university visible to the public. At the University Sports Festival, for example, you can get to know the wide range of activities offered by the TU Sports Centre and at "Profs at Turntables" our professors play music for a good cause in the clubs of Braunschweig. You can also broaden your horizons at lecture series, listen to the sounds of the orchestra or the university choir at musical performances, talk to experts from various departments and much more. You can find all events related to TU Braunschweig here: