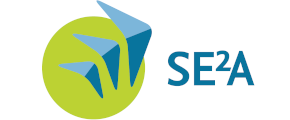 About us
The Cluster of Excellence SE²A is an interdisciplinary research center with the purpose of investigating technologies for a sustainable and eco-friendly air transport system. Scientists from aerospace, electrical, energy and chemical engineering are working on the reduction of emissions and noise, as well as recycling and life-cycle concepts for airframes and improvements in air traffic management. Technische Universität Braunschweig, the German Aerospace Center (DLR), Leibniz University Hannover (LUH), the Braunschweig University of Art (HBK) and the National Metrology Institute of Germany (PTB) have joined forces in this extraordinary scientific untertaking.
Fundamental objectives of the SE²A-Cluster
Identification and determination of the medium and long-term potential for eliminating the carbon footprint of future air transport operation.
Development of comprehensive criteria and metrics for sustainable air transport that can serve as a basis for decision-making and future scenarios.
Identification of key research requirements with particular attention to interdisciplinary challenges and the validation of fundamental approaches.
Recognition and transfer of prospective game-changing technologies into aviation at an early stage and exploration of a future air transport system.
Establish a world-class scientific structure for coordinated research in aeronautics and energy.
Leverage the existing strengths and excellent know-how of internationally renowned partner universities for a leap in scientific cooperation
Attract and promote young talent in engineering disciplines for fundamental research and technology development.
Establish TU Braunschweig as a key university for long term fundamental research in aviation.
Reinforce the strategic and interdisciplinary research alliance between the universities TU Braunschweig and Leibniz Universität Hannover and the DLR
Enhance the value of mobility research through cooperation in fundamental research across the disciplines of mechanical engineering, electrical engineering, and economics.
Comprehensively promote equal opportunities for young academic talent.
The cluster will be funded by the German Research Foundation, DFG, for 7 years, starting january 2019. A second 7-year funding period is possible, depending on a positive review by the DFG.