Gel Electrophoresis – subproject of the SPP 2045
Fractionation of Nanoparticles by Preparative Gel Electrophoresis – subproject of the SPP 2045
Contact person: Matthäus Barasinski
Summary of the project:
Monodisperse nanoparticles (NP) with completely uniform properties regarding size and morphology are essential already today for optical (plasmonic) applications. In the future, such particles will be necessary for many further areas. For example, in the field of medicine or for self-assembly processes these uniform NP promise a high-precision mode of action and structures with highest precision, respectively.
Since the required narrow particle size distribution or monodispersity is not reached with conventional methods, this subproject shall investigate the fractionation of these synthesized particles with preparative gel electrophoresis. Thereby, the NP are separated spatially in an appropriate gel due to their different electrophoretic mobilities.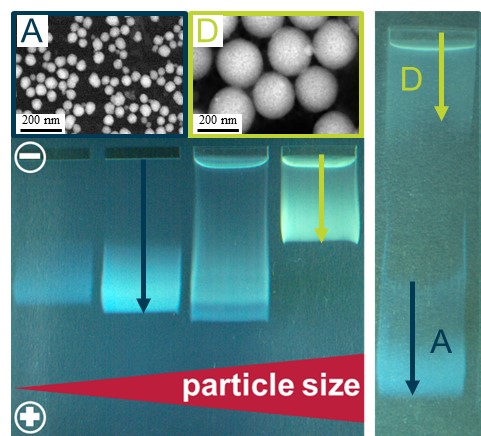 TEM images of spherical SiO2 nanoparticles (samples A and D) as well as a photograph of an agarose gel with samples of varied particles sizes and different migration distances (left). Separation of a binary mixture (A and D) within an agarose gel (right).
Objectives and tasks of the iPAT:
Synthesis of SiO2 and ZnO NP with subsequent surface modification by ligands
Separation of NP by electrophoretic experiments
Characterization of the separated particle fractions by TEM and SAXS
Understanding of particle-gel-interactions
Construction of an electrophoretic chamber for the establishment of a multidimensional separation by particle size and morphology
Modelling and simulation of the separation process