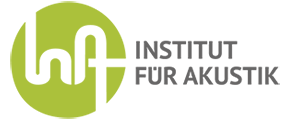 Welcome to the Institute of Acoustics
We devote our research to the science of sound & silence and are dedicated to acoustics for people.
Paving the way for calm, smooth and smart designs – this is the aim of our institute. Novel technologies require the development and fundamental study of acoustic effects, reliable models and innovative approaches to a quiet environment
Institut for Acoustics
Prof. Dr.-Ing. Sabine C. Langer
Langer Kamp 19
38106 Braunschweig
You can find more information on how to reach us under Contact.