Biochemical, Chemical and Pharmaceutical Engineering (Bachelor)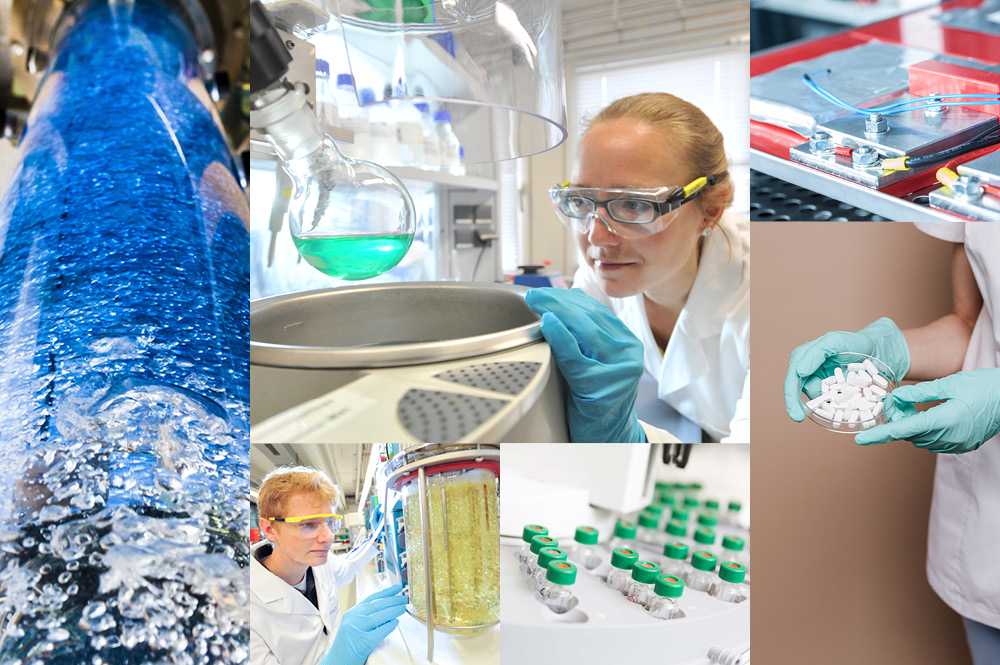 Key data
| | |
| --- | --- |
| Degree | Bachelor of Science |
| Standard duration of study | 6 semesters |
| Language of instruction | German |
| Start of programme | winter semester |
| Admission | free admission (pre-study internship) |
How can we make sure that each tablet in a medical packaging contains exactly the same amount of active ingredient? What makes paint shine? How are methods of process engineering developed, optimised and made more efficient?
Biochemical, Chemical and Pharmaceutical Engineering (BCPE) is an interdisciplinary degree programme combining natural sciences and engineering. Plastics, medicines, dairy products—all these products are made from raw materials that are transformed and recycled using biological, chemical or pharmaceutical processes. As a graduate of the BCPE Bachelor's degree programme, you will work at the interface of natural science and technology and are well versed in both fields. This makes you sought-after generalists in engineering who are particularly in demand in research and the industry.
What is special about TU Braunschweig?
Time to explore
There is a reason why holding a degree from the Faculty of Mechanical Engineering at TU Braunschweig enjoys an excellent reputation. We prepare you well for the requirements of your studies with the help of a maths pre-course to refresh your school knowledge. And no one expects you to commit to a particular major right away. There are three semesters for us to teach you the basics, giving you time to find your personal interests and decide on your future course of study from the fourth semester onwards.
A wide range of options
We offer you plenty of options to deepen your knowledge, allowing you to study exactly what you are interested in. Our large number of Master's degree programmes are designed to continue your studies in the same way. You can also get involved in specialist and interdisciplinary activities outside of the classroom. Be it by participating in one of the many student initiatives—such as the Lions Racing Team where you can send Formula Student cars to the race track. Perhaps you would like to spend a semester exchanging ideas with a professional from business or academia. Then take part in our successful Mentor.ING programme. And if you want to withdraw and concentrate on your studies in peace and quiet, you can visit the Masch.Bau student house with its study rooms.
Science at your fingertips
Braunschweig is an attractive research region and studying here means you are at the cutting edge of science. Our close ties with TU research centres such as the Automotive Research Centre Niedersachsen (NFF), the Aeronautics Research Centre Niedersachsen (NFL) and the Center of Pharmaceutical Engineering (PVZ) promote practical teaching and give you the opportunity to establish business contacts. You can get additional insights into the latest scientific research thanks to our various cooperation partners such as the German Aerospace Center (DLR) or the Physikalisch-Technische Bundesanstalt (PTB), National Metrology Institute. From collaborating with the high-tech workshop Protohaus to succeeding with the Cluster of Excellence or setting the world record for the largest paper aeroplane—we are part of the action!
Information on the study programme
Admission requirements and application
University entrance qualification
In order to apply for the Bachelor's degree programme in Biochemical, Chemical and Pharmaceutical Engineering, you need a university entrance qualification. This is usually the German Abitur, but there are also other qualifications with which you can begin your studies at TU Braunschweig.
More information on the admission requirements for German applicants [in German only]
International students usually need to have a school-leaving qualification with which they could also study in their home country. This means you must have
completed secondary school

passed the university entrance exam (if this examination exists in your home country).
In some cases, you must have already studied at a recognised university in your home country or have previously attended the Studienkolleg in Germany.
More information on the admission requirements for international applicants
Pre-study internship
Before beginning your studies, you must complete an eight-week internship in a company, in which you learn basic craft skills and practical engineering activities. You must write an internship report in the form of a weekly overview, which you submit to the SERVICEteam of the Faculty of Mechanical Engineering (online) after the start of your studies in order to have the internship recognised. You can find detailed information on how to carry out and have the internship recognised here:
More information
---
Contact
SERVICEteam of the Faculty of Mechanical Engineering