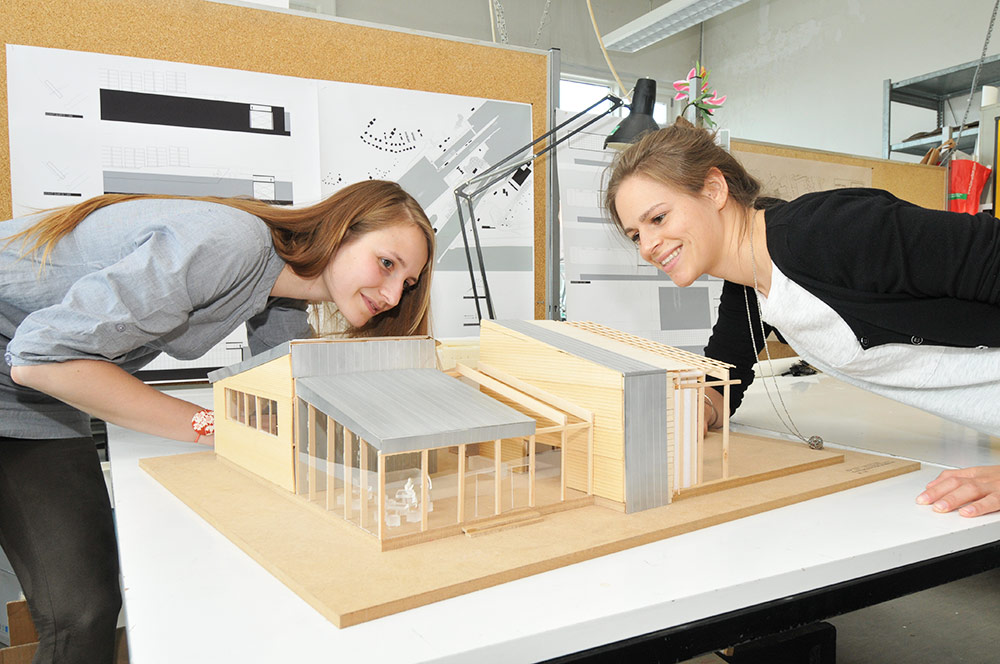 Key data
| | |
| --- | --- |
| Degree | Bachelor of Science |
| Standard duration of study | 6 semesters |
| Language of instruction | German |
| Start of programme | winter semester |
| Admission | restricted admission (selection procedure) |
Have you ever admired a city, remembered its special atmosphere unforgettably? Have you ever stood fascinated in front of or inside a building, spellbound by the architecture, impressed by its charisma?
The decision to study architecture at TU Braunschweig means the opportunity to learn, experiment and develop at a renowned university. Architecture is never just a solution to a given task; it always consists of a variety of possibilities.
What is special about TU Braunschweig?
Developing standards for quality
The Braunschweig School is characterised by design-related subjects; the central educational content is the design synthesis of all core subjects in design and construction. During your studies, you will therefore learn to critically reflect on architectural form and architectural spaces and to implement them in a constructively and functionally appropriate manner. It is essential to develop standards for quality.
Educated holistically, you will acquire all the knowledge and skills you need to participate in the design of our built environment. At the same time, you will develop an awareness of the responsibility you have as an architect.v
Think tank and creative cocoon
The drawing rooms are a special offer for Braunschweig architecture students. Every student can apply for one of the more than 300 drawing room spaces.
These student workspaces play a major role in determining the quality of the architecture degree programme. The strength of the drawing rooms lies in the mutual help and correction of students with drafts and exercises, but also in the communal togetherness during busy phases. Ideally, a creative atmosphere unfolds here, characterised by mutual help and constructive criticism.
The stimulation and exchange of ideas with fellow students is a unique experience in studying and complements the teaching of lecturers.
Exhibitions and competitions enrich the studies
Our students as well as our graduates have a reputation for producing outstanding designs. They regularly face national and international competition and achieve prizes in renowned competitions.
They can also face internal competition and succeed in the CloudClub Award of our alumni association of the same name, which annually awards prizes to the best student designs and works of our department. The result of this competition is shown in the exhibition pavilion of the Department of Architecture.
Information on the study programme
Admission requirements and application
You need a valid university entrance qualification to apply. There is a special selection procedure for the Bachelor's programme in Architecture.
Additional offer: Architecture+
In addition to the normal 6-semester Bachelor's programme, a special additional offer is the 8-semester "Architecture+" Bachelor's programme with a stay abroad in the third year. It starts in the 4th semester. For more details, see Architecture+.
More information
---
Contact