Professor Dr. Angela Ittel is President of the Technische Universität Braunschweig since July 1, 2021. As President, Professor Ittel represents the University, heads the Executive Board and provides it's guidelines. More information on the duties of the University president can be found in the Lower Saxony Higher Education Act (NHG).
Short Profile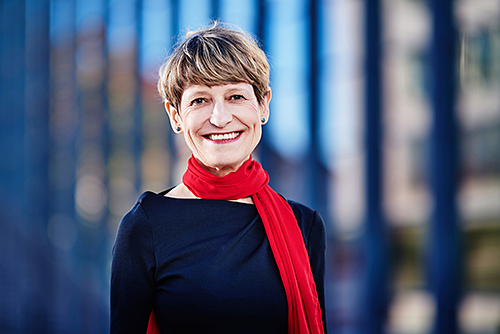 Professor Dr. Angela Ittel has acted as full-time Vice President of Technische Universität Berlin, Germany, since 2014 and was initially responsible for the departments of Internationalization and Teacher Education. Since 2018, she was responsible for the departments of Strategic Development, Junior Scholars, and Teacher Education and has led and successfully implemented several extensive strategy processes.
Among other activities, she took an active part in successful application of the Berlin University Alliance (the association of Berlin universities) in the Excellence Strategy of the German federal and state governments and was as a member of the Berlin University Alliance executive board. With her longstanding experience as science manager, she is also a proven expert in the areas of collaborative research, young academics, gender equality and diversity. Her academic career let her from studying at Florida International University, USA to obtaining her doctorate (Ph.D) at the University of California at Santa Cruz, USA. She was a predoctoral fellow at the Max Planck Institute for Human Development, Berlin and held positions as postdoctoral fellow at the Friedrich Schiller Universität Jena, the Technische Universität Chemnitz, and the Freie Universität Berlin, before she was appointed Professor of Educational Psychology at the TU Berlin in 2008.
Her research areas include career orientation and the development of young people's interests, especially in STEM subjects. She was the Editor of international journals and continuous to be active as an expert reviewer.
She is an active member of numerous organisations and professional associations, including the German Rectors' Conference. Angela Ittel is also an executive board member of the German Academic Exchange Service (DAAD). In October 2022 she took up the role of the President in the TU9-Alliance together with Tanja Bruehl, President of the TU Darmstadt.
For more information on the President's professional career, click here.
Executive Assistant to the President
Karen Lehmann
Room 109 / Forum (4201)
In our magazine, President Angela Ittel provides insights into current dates, tasks and topics
The central coordination unit for the University's management.