Genome Sequencing Projects
Genome Sequencing Projects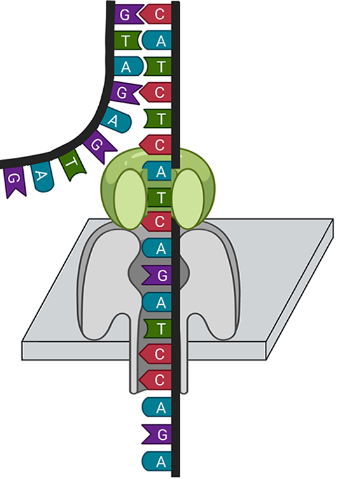 Ongoing and completed genome sequencing projects
This website provides an overview of our group's current and completed genome sequencing projects. We utilize the Nanopore sequencing technology from Oxford Nanopore Technologies (ONT). In this process, a single DNA molecule (or RNA molecule) is pulled through a protein embedded in a synthetic membrane. While a single-stranded DNA passes through this protein, the bases of the DNA selectively block the movement of small charged particles (ions) through the protein. This generates an electrical signal that can be measured. Later, this signal is translated into a DNA sequence because each combination of DNA bases produces a distinct electrical signal. Further details about this sequencing technology and its capabilities were recently described in a review article (Pucker et al., 2022). For sequencing, we use MinIONs, which are small, portable sequencers. Students have the opportunity to participate in genome sequencing projects as part of various courses, enabling them to gain hands-on experience with this sequencing technology.
The completion of these genome sequencing projects and subsequent publication of the genome sequence and all related data unfortunately often takes several months. As a principle, we publish all data in appropriate repositories (e.g., ENA) and also make all methods freely available (e.g., scripts via GitHub). If you are interested in our ongoing projects, please feel free to contact us via email. In most cases, access to the genome sequence should be possible before its official publication.
In general, we are interested in collaborations for sequencing additional plant genomes. However, our research is heavily constrained by the Nagoya Protocol. Therefore, we must limit our activities to species that are native to Germany and can be collected here. Species from abroad would need to have been present in Germany before 2014 (e.g., in botanical gardens), and we require documents that clearly confirm this. Some source countries provide their genetic resources internationally for unrestricted use (e.g., Germany), allowing us to work with plants from these countries. Unfortunately, we must decline projects involving plants that are subject to the Nagoya Protocol.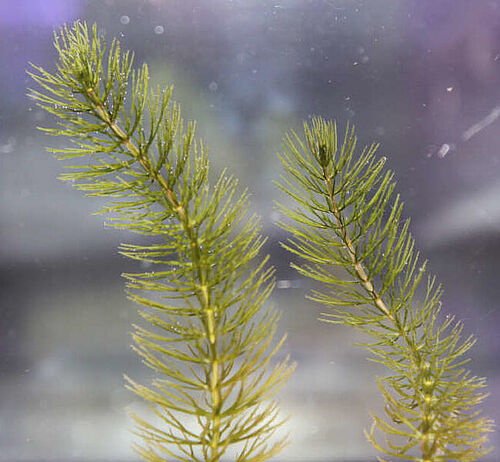 Ceratophyllum submersum
Ceratophyllum submersum (soft hornwort) is an aquatic plant that is very common in (eutrophic) ponds in Germany. We analyzed the plastome (subgenome of the chloroplast) of this species to determine its relationship to other plant species (Meckoni et al., 2023).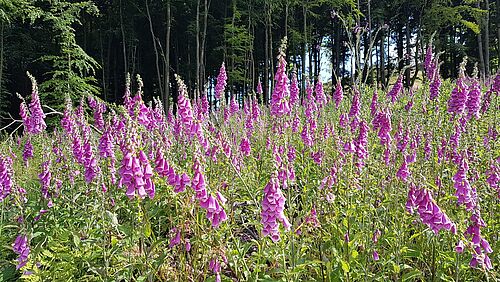 Digitalis purpurea
Digitalis purpurea (floxglove) is known as a medicinal plant, but also appears frequently as horticultural plant in gardens due to its colorfull and large flowers. We are interested in the flavonoid biosynthesis of this plant species with a particular focus on anthocyanins which are responsible for the redish pigmentation and also the name of the species.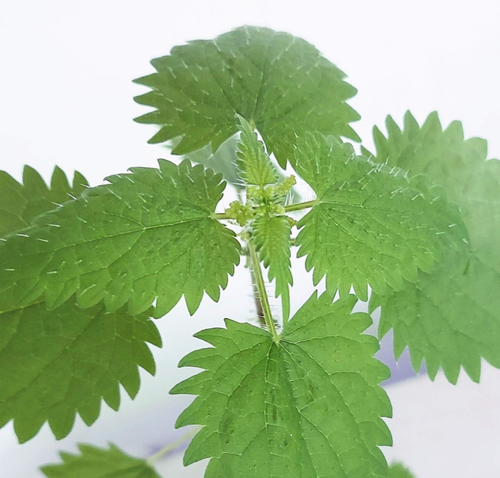 Urtica dioica
Urtica dioica (stinging nettle) was the medicinal plant of the year in 2022. It is well known for a high flavonoid content and often used to produce tea.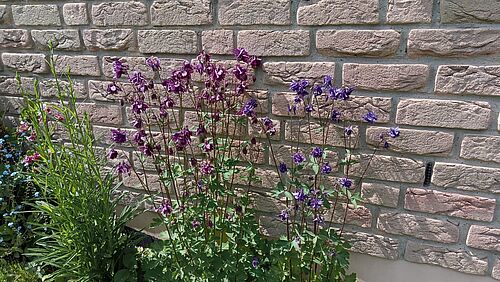 Aquilegia vulgaris
Aquilegia vulgaris (common columbine) is a horticultural plant that can be seen in many gardens showing a variety of flower colors. We are interested to understand the molecular basis of different flower colors.
Victoria cruziana
Victoria cruziana (giant water lily) is the biggest attraction in the Botanical Garden in Braunschweig. The plant is famous for huge floating leaves that can carry the weight of a small child. It produces beautiful flowers that open at night. We are interested to understand the flavonoid biosynthesis in this aquatic plant species.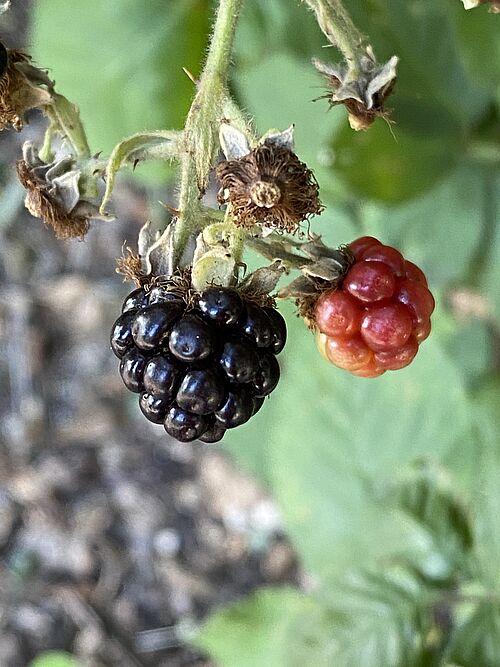 Rubus armeniacus
Rubus armeniacus (blackberry) is a fruit producing plant species that is common throughout Germany. It is well known for the black and sweet fruits that it produces. We are interested to study the formation of anthocyanins, a subgroup of the flavonoids, in blackberry.