Pharmacy (State Examination)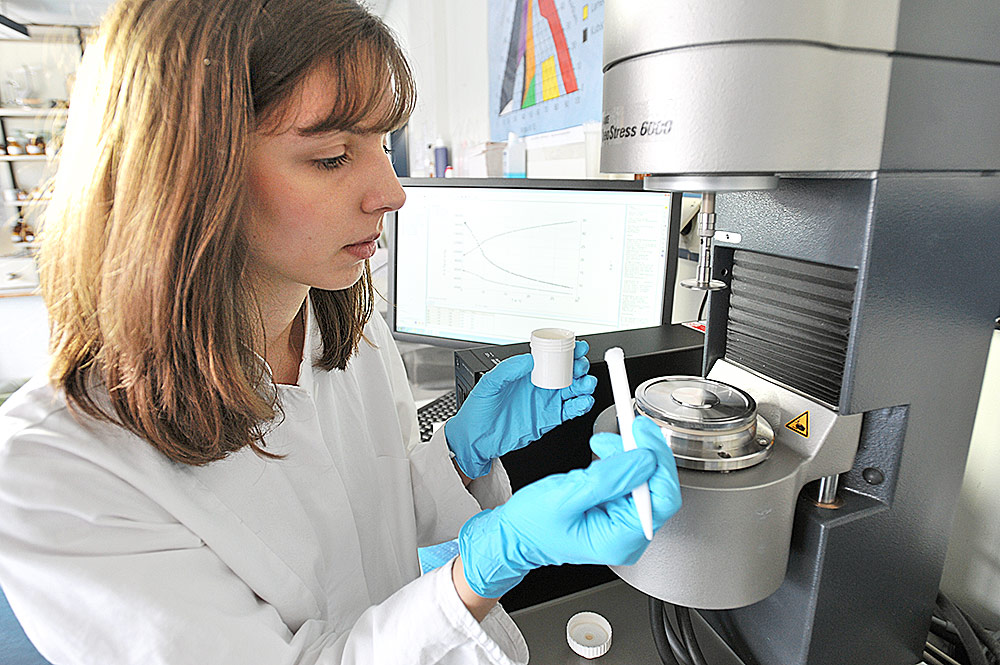 Key data
| | |
| --- | --- |
| Degree | State Examination |
| Standard duration of study | 8 semesters |
| Language of instruction | German |
| Start of programme | winter and summer semester |
| Admission | restricted admission |
Experts in pharmaceuticals:
Pharmacy is concerned with all aspects of pharmaceuticals. During your studies, you will learn about the production and analysis as well as the optimal dosage form or the reaction between drugs and the organism.
What is special about TU Braunschweig?
The study of pharmacy is characterised by a diverse range of subjects: biology, chemistry (and especially analytics), pharmacology and clinical pharmacy (patient-related drug therapy) play an essential role. In addition, you acquire procedural knowledge for the production and testing of medicinal products and learn about legal regulations.
Studying at the Pharmacy Centre
The approximately 75 first-year students can expect to find everything on campus at TU Braunschweig: All the institutes involved in the training are grouped together around the Pharmacy Centre. Almost all courses take place here, which means everything is within easy reach and you will quickly get to know your way around.
Thanks to modern equipment in the laboratories of the Pharmacy Centre, you will enjoy the many possibilities for experimental work. A well-structured curriculum ensures that you can graduate in the shortest possible time. We put a lot of effort into coordinating the courses well so that there is no overlap.
A special feature of Braunschweig is the Chair of History of Pharmacy, which also has a place here. Access to the latest, comprehensive literature on pharmacy is available directly on site: The University Library of TU Braunschweig has the largest collection of pharmaceutical literature in Central Europe.
Medicinal plant garden and mock pharmacy
Next to the Pharmacy Centre is a medicinal plant garden, which was laid out especially for pharmacy students. On an area of approx. 2000 m² you will find about 200 medicinal plants, arranged by active ingredients.
To offer practical training, there is also a mock pharmacy, which is particularly used in clinical pharmacy courses and helps to prepare students for employment in a pharmacy.
Information on the study programme
Admission requirements and application
You will need a formal university entrance qualification to apply for the programme. If you do not have the German Abitur, you can check our summary [in German only] to find out which degree programmes are available to you depending on your educational background.
Please apply via the portal Hochschulstart.de [in German only] for the first semester. Please note the application deadlines mentioned there.
For a higher semester in pharmacy, please apply via our Application Portal.
More information
---
Contact