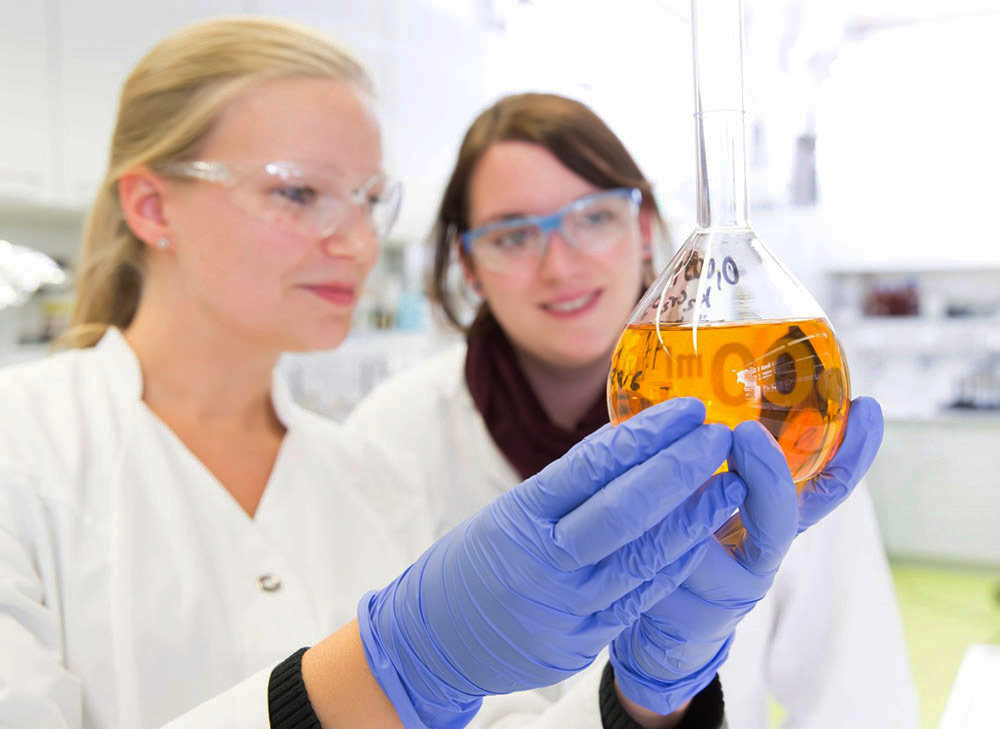 Key data
| | |
| --- | --- |
| Degree | Master of Science |
| Standard duration of study | 4 semesters |
| Language of instruction | German |
| Start of programme | winter and summer semester |
| Admission | free admission (special admission requirements) |
When you choose chemistry, you are choosing an industry whose products have an impact on almost all areas of the economy and our life. Progress in many fields is based on knowledge gained from chemistry:
They make possible catalytic converters in cars, laser technology, nanomaterials, fuel cells or new agents for medicine, to name just a few examples.
What is special about TU Braunschweig?
Training in all areas of chemistry
The Chemistry degree programme at TU Braunschweig offers training in all areas of chemistry so that you can acquire a comprehensive theoretical and practical knowledge.
Internationally recognised research programme
At TU Braunschweig you will study in an excellently equipped Chemistry Centre. A diverse and internationally recognised research programme awaits you, ranging from research into naturally occurring substances and drugs, catalysis, synthesis methods, nanotechnology and laser chemistry to polymer chemistry. The focus is on chemistry in the life sciences and the chemistry of energy conversion.
The region is also home to a large number of internationally renowned research institutions with which the University's chemistry institutes cooperate closely, such as the Helmholtz Centre for Infection Research (HZI), the Physikalisch-Technische Bundesanstalt (PTB) and other research facilities.
Information on the study programme
Admission requirements and application
You can apply for this Master's degree programme if you have a Bachelor's degree in a related discipline. You can find more information on the admission requirements in our admission regulations [in German only]. Please carefully read the information provided before you submit your application!
More information
---
Contact
Ilka Schmanteck and Dr. Linda Teevs