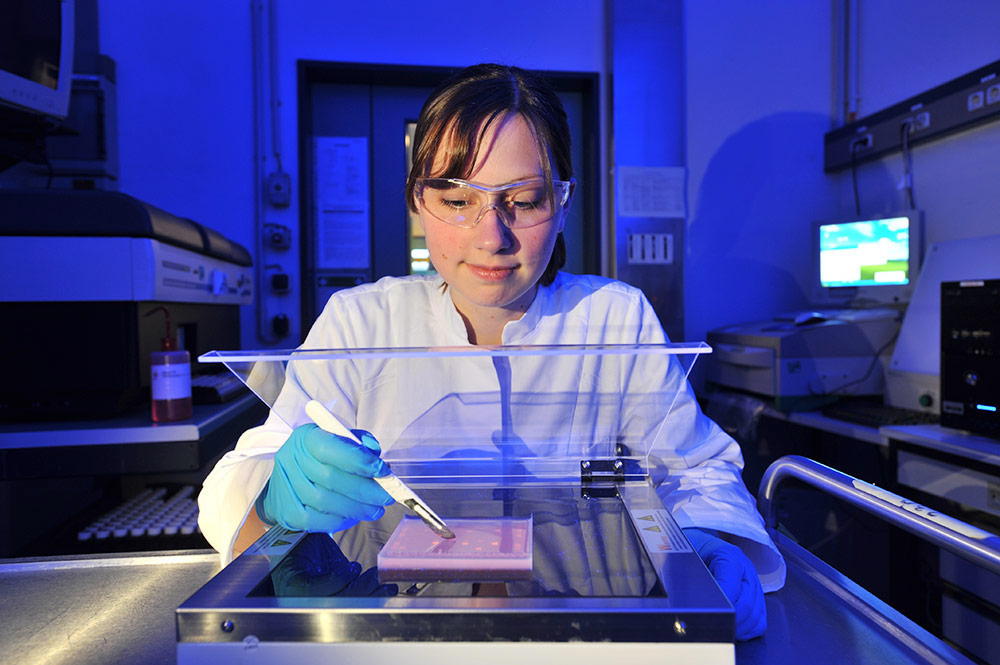 Key data
| | |
| --- | --- |
| Degree | Bachelor of Science |
| Standard duration of study | 6 semesters |
| Language of instruction | German |
| Start of programme | winter semester |
| Admission | restricted admission |
Key technology of the 21st century: Biotechnology is the source and driver for numerous applications in medicine, the food and feed industry and the chemical industry.
It is an interdisciplinary and application-oriented science and is considered one of the key future technologies of our time.
What is special about TU Braunschweig?
Innovative and focused on practice: Studying in the Braunschweig research region
At TU Braunschweig, you can look forward to a practice-oriented degree programme in which we will prepare you for your future career in the best possible way. The environment is a big plus here: Important major biological research institutions are located in the region, with which there is intensive cooperation:
Helmholtz Centre for Infection Research (HZI)

Thünen Institute - Federal Research Institute for Rural Areas, Forestry and Fisheries (TI)

German Collection of Microorganisms and Cell Cultures (DSMZ)

Julius Kühn Institute - Federal Research Centre for Cultivated Plants (JKI)

Fraunhofer Institute for Toxicology and Experimental Medicine (ITEM)
This is what you will benefit from during your studies: Scientists from these research institutions hold lectures and practical courses in the Biotechnology degree programme and also supervise a large number of student research projects, theses and doctoral dissertations. Due to the broad research spectrum, you can choose from a variety of specialisations.
Many institutes of the University also cooperate closely with commercial enterprises and conduct their research in a very application-oriented manner. This offers you the opportunity to carry out your student research project or thesis in the industry and to get in contact with potential employers.
The research groups in biotechnology at TU Braunschweig have won a variety of awards and prizes so far. For example, in March 2022 the Abcalis GmbH team of the biotechnology division of Technische Universität Braunschweig was awarded the ECEAE prize for non-animal derived antibodies. You can find a list of current events as well as awards and prizes in the field of biotechnology here.
Information on the study programme
Admission requirements and application
You will need a formal university entrance qualification to apply for the programme. If you do not have the German Abitur, you can check our summary [in German only] to find out which degree programmes are available to you depending on your educational background.
More information
---
Contact