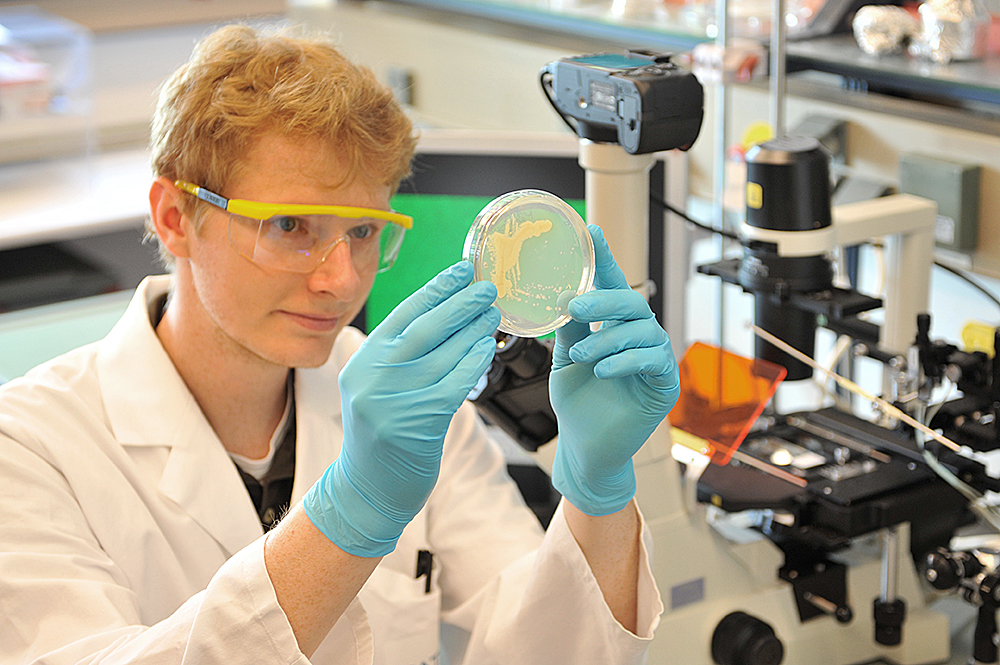 Key data
| | |
| --- | --- |
| Degree | Master of Science |
| Standard duration of study | 4 semesters |
| Language of instruction | German/English |
| Start of programme | winter and summer semester |
| Admission | restricted admission (special admission requirements) |
Molecular methods for a promising field of studies:
Investigating a genetic defect in a tobacco plant and thereby uncovering a rare metabolic disease in humans caused by the same genetic defect: You can do that if you apply methods in molecular biology.
What is special about TU Braunschweig?
Cutting-edge biology
With its focus on molecular and cellular biology, TU Braunschweig takes into account the demands on cutting-edge biology in research and professional life.
Great progress has been made using methods in molecular and cell biology; and their potential for the future is enormous. During your studies, you will learn and apply these methods in all areas of biology in a wide range of practical courses.
You will not only look at organisms as a whole. You will investigate the smallest cellular structures using state-of-the-art technology in order to decipher their function and, in return, draw conclusions about the organism as a whole.
Eventually, you will gain an understanding of basic biological and pathological processes and you will learn to apply them to your benefit.
Studies at the forefront of research
The Braunschweig region is characterised by an outstanding cluster of biological research facilities. In addition to the institutes of life sciences at TU Braunschweig, you will find four important major biological research institutions here, with which there is close cooperation:
Helmholtz Centre for Infection Research (HZI)

Julius Kühn Institute, Federal Research Centre for Cultivated Plants (JKI)

Thünen Institute, Federal Research Institute for Rural Areas, Forestry and Fisheries (TI)

German Collection of Microorganisms and Cell Cultures (DSMZ)
During your studies, you have the opportunity to do internships at one of these research institutes or to write your thesis there. Additional lectures by specialists from these research institutes complement the curriculum. This will give you an insight into current research topics and you can experience how new knowledge is acquired in biology.
The close cooperation in research is particularly evident in TU Braunschweig's Biocentre. Here, working groups from all biological institutes work under one roof. The fields of biochemistry, biotechnology, bioinformatics, genetics, infection biology, microbiology, neurobiology, plant biology and zoology are represented.flanzenbiologie und Zoologie.
Information on the study programme
Admission requirements and application
You can apply for this Master's degree programme if you have a Bachelor's degree in a related discipline. You can find more information on the admission requirements in our admission regulations [in German only]. Please carefully read the information provided before you submit your application!
More information
---
Contact