Ini-Seg
Initial foreign speech segmentation in school-aged children (DFG-funded project)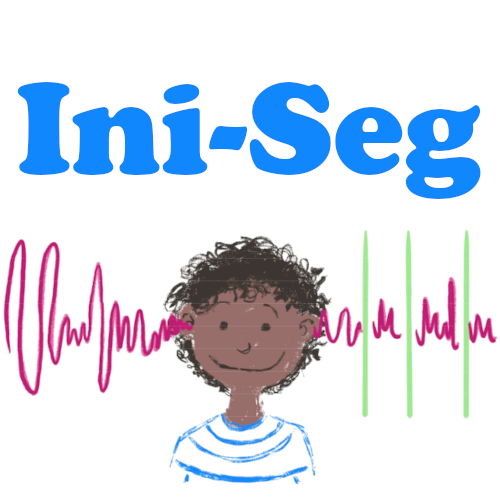 Primary school-aged children in Germany are required to learn English, but the age at which instruction should start remains a topic of debate. Although research with immigrants who arrived as children suggests an advantage for an earlier start, children receiving only classroom English instruction often benefit more from starting later in primary school.
This project seeks to understand the underlying mechanisms driving this developmental difference in foreign language learning by studying the child learner's readiness to process and learn from foreign speech before they have received instruction in that language. It focuses on German-learning school-aged children at two ages when English instruction begins in the German school system (6-7 and 9-10 years).
In a series of experiments, German-learning children's initial ability to segment or extract words from English foreign speech will be examined; speech segmentation is an essential ability for learning words and building a vocabulary in a foreign language. The role of children's developing knowledge of the majority language (German) will be investigated, as well as individual differences in linguistic and cognitive skill with the goal of uncovering the driving force in developmental change. Monolingual and bilingual children will both be studied and are expected to differ from one another in these skills.
A series of experiments is proposed to study two specific aspects of prior language knowledge, phonotactics and top-down lexical knowledge. Knowledge of majority-language phonotactics, which describe the sequence of sounds permitted by a particular language, may interfere with segmentation of foreign speech with word boundaries that conflict with phonotactic cues from the majority-language (Expeirment 1). In contrast, if children are familiar with words present in the foreign speech, such as cognate words (i.e. English: baby /beɪbi/; German: Baby /be:bi/), this top-down lexical knowledge should highlight the word boundary and facilitate segmentation of cognate words (Experiment 2) as well as words adjacent to cognate words (Experiment 3).
When controlling for increasing cognitive skill, which generally improves with age, we predict that prior majority-language knowledge will differentially impact the use of phonotactic cues and top-down lexical knowledge. On the other hand, phonological awareness, which describes the ability to explicitly manipulate phonemes in spoken language, develops rapidly once children enter primary school and is predicted to be driving force behind differences between children of different ages and between monolingual and bilingual children.
Together, this project goes far beyond previous group-based work to examine the contributions of individual experiential, linguistic and cognitive factors. These studies will yield comprehensive insights into the capacities and constraints that the school-aged child learner possesses when they are first exposed to a foreign language.