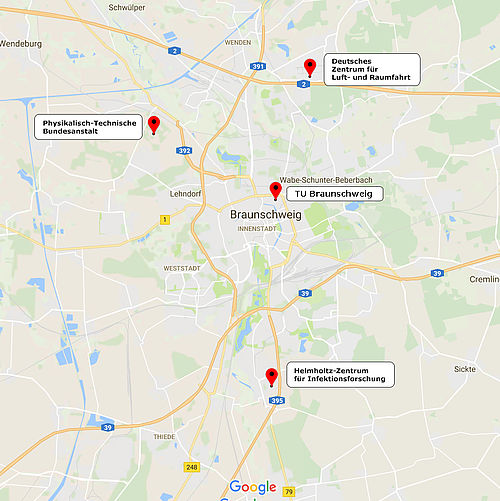 The research at the Computer Science Department benefits from the cooperation with many partners. The research location Braunschweig offers the direct proximity to many renowned research institutions.
Thus, many cooperative projects with the "Physikalisch-Technische Bundesanstalt (PTB)", the "Helmholtz – Centre for Infection Research (HZI)" or the "Deutsches Zentrum für Luft- und Raumfahrt (DLR)" have already been successfully completed.
With the highest research density in Europe, Braunschweig has long since established itself as an international top research location. With the highest research density in Europe, the region is at the top of the Europe rankings in terms of research and development expenditure by the state and industry, with 5.8% of gross domestic product (2009).
In addition, the region has the highest "density of scientists" in Germany with 3.9% of employees in research and development: over 36.000 people work in public and industrial research institutions.
Through the work of a total of ten institutes, computer science at the TU Braunschweig is able to make a decisive contribution to this. Learn more about our institutes and their work here. Here you will also find the best-known projects within the TU Braunschweig and with partners.
Under "Projects", you will find a small extract of the last years. More detailed information can be found on the websites of the respective institutes.