Automotive Research Centre Niedersachsen
Automotive Research Centre Niedersachsen

A Center for Future Vehicle Mobility
The Automotive Research Centre Niedersachsen (NFF) is one of the largest and most modern centres for mobility research at any German university and focuses on promising future-oriented topics in vehicle and traffic research.
From the existing social, environmental and economic requirements for the development of vehicle-related technologies and usage models, the NFF has developed the vision of Sustainable Mobility.
It will be implemented in five scientific research fields (Intelligent Vehicle and Connected Driving, Low-Emission Vehicle, Flexible Vehicle Concepts and Vehicle Production, Mobility Management and Logistics, Electromobility) and will sustainably ensure the individual mobility needs in metropolitan areas.
Current dates
12.-16. September 2022
AVEC 22: 15th International Symposium on Advanced Vehicle Control, Kangawa (Japan) [Mehr]
---
16.-22. September 2022
Europäische Mobilitätswoche 2022, Braunschweig [Mehr]
---
18.-22. September 2022
ITS-Weltkongress, Los Angeles (USA) [Mehr]
---
20.-25. September 2022
IAA Transportation, Hannover [Mehr]
---
26. September 2022
Übergabe Förderbescheid HTIA Smart Mobility, NFF
---
13. Oktober 2022
Auftakt des Regionalen Transformationsnetzwerks - Projekt ReTraSON, Wolfsburg [Mehr]
---
13. Oktober 2022
NFF-Hauptversammlung, Wolfsburg
---
19.-20. Oktober 2022
HEV 2022 - Fachtagung Hybrid- und Elektrofahrzeuge, Gifhorn [Mehr]
31.08.2022
Braunschweigs Oberbürgermeister und TU-Präsidentin vollautomatisiert unterwegs
Am 31. August wurde ein Versprechen eingelöst: TU-Präsidentin Professorin Angela Ittel hat gemeinsam mit Braunschweigs Oberbürgermeister Dr. Thorsten Kornblum an einer Probefahrt in einem autonom fahrenden Auto am Forschungsflughafen teilgenommen. [Mehr]
---
Mehr Neuigkeiten und Nachrichten rund um unser Forschungszentrum, ausgewählten Projekten und Veranstaltungen finden Sie auch auf unseren Social-Media-Kanälen.
Facebook Instagram LinkedIn YouTube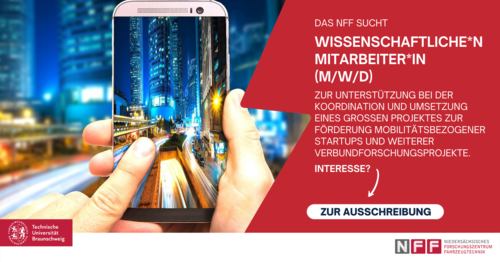 Wissenschaftliche*r Mitarbeiter*in (m/w/d) gesucht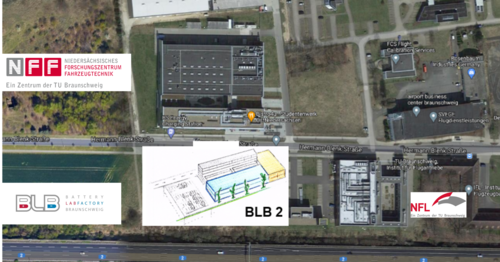 Batterieforschung an der TU Braunschweig: Forschungsneubau wird gefördert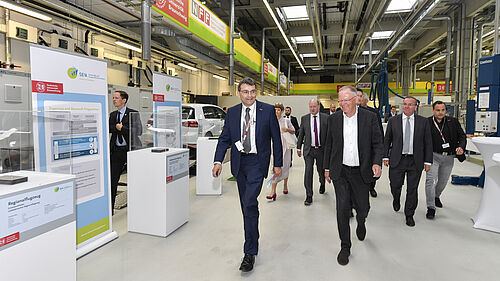 Niedersächsische Landesregierung tagte an der TU Braunschweig
---
Notiz_Blog
Ob Veranstaltungsankündigungen, kurze Neuigkeiten oder kleine Hinweise in eigener Sache: in unserem Notiz_Blog bleiben Sie stets aktuell informiert. Auch und insbesondere Informationen, die zu klein für eine große Sichtbarkeit sind, aber z.B. ein wichtiger Infobaustein für Abläufe im Kontext des NFF sein können wollen wir hier mit Ihnen teilen. Ergänzt wird das Ganze durch unsere Social-Media-Aktivitäten.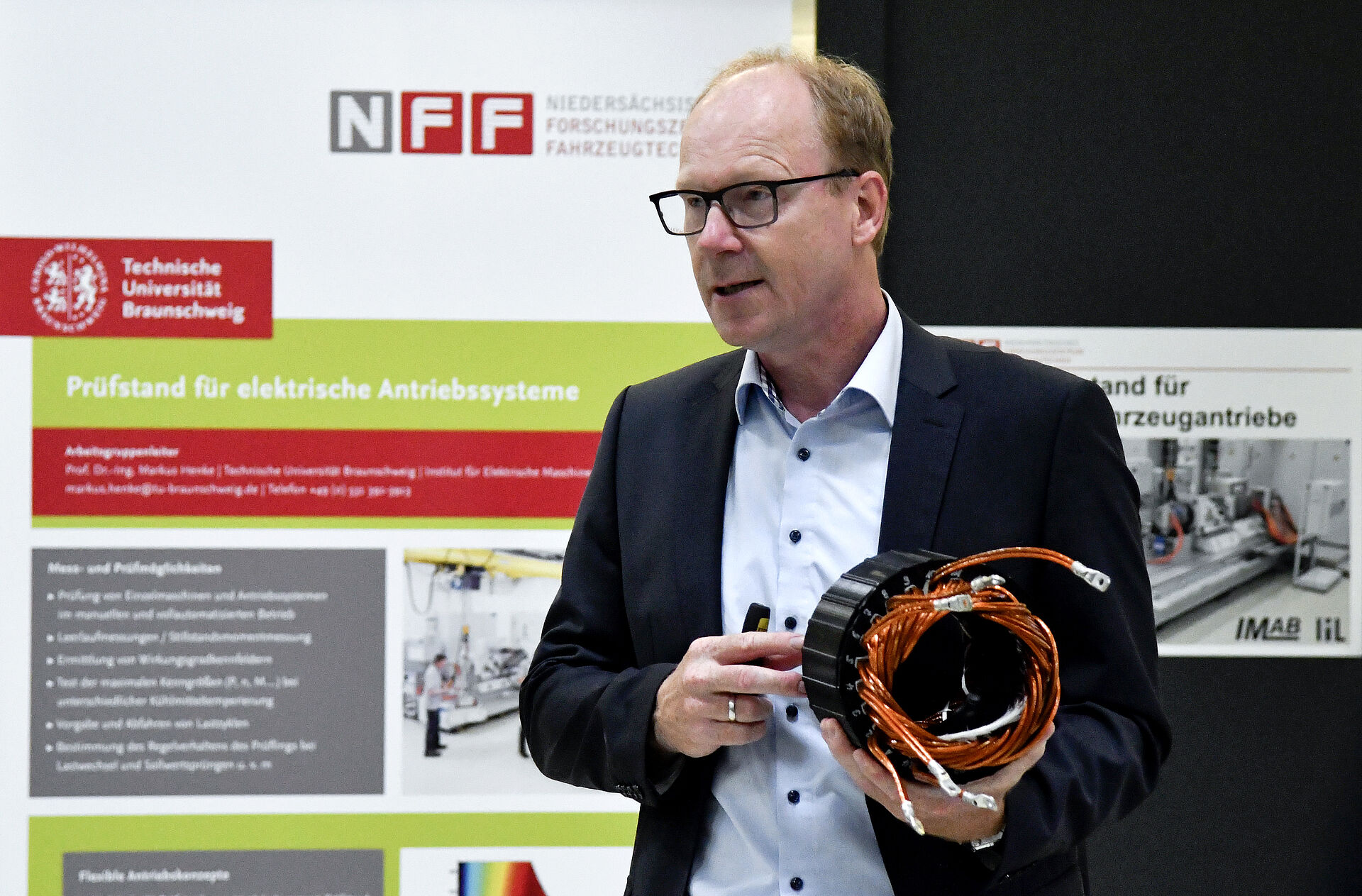 12.08.2022
Bild des Monats Juni 2022
Studierende der ersten Generation: Im Projekt "Vorbilder" präsentieren sich verschiedene Mitglieder der Technische Universität Braunschweig als erste in ihrer Familie, die studiert haben. Im zweiten Teil der Reihe gibt NFF- und Vorstandsmitglied Prof. Markus Henke Einblicke in seinen bisherigen Werdegang. Welche Hürden musste er überwinden? Was hat ihm auf seinem Weg geholfen? Und welche Ideen hat der promovierte Elektroingenieur, um die Chancengleichheit für Studierende der ersten Generation zu verbessern? [Mehr]
Mehr Beiträge gibt es auf unseren Kanälen bei Instagram, Facebook, LinkedIn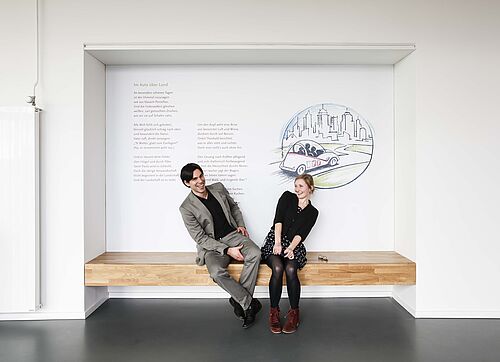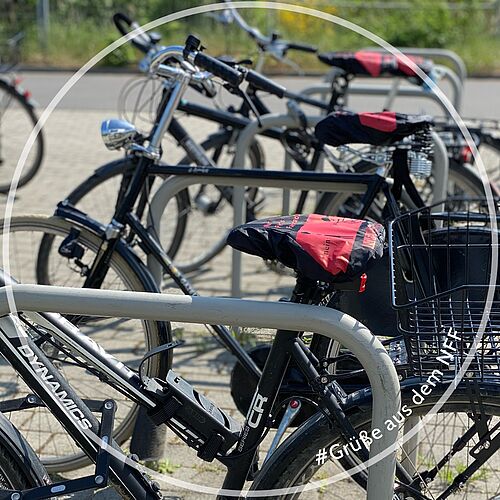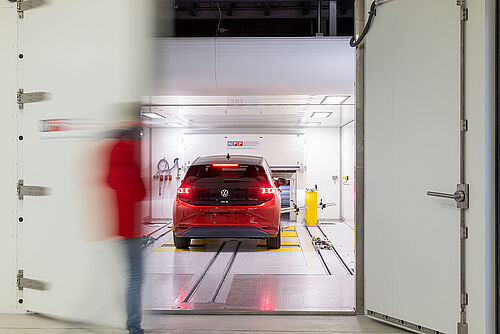 Eröffnung Klimarolleprüfstand