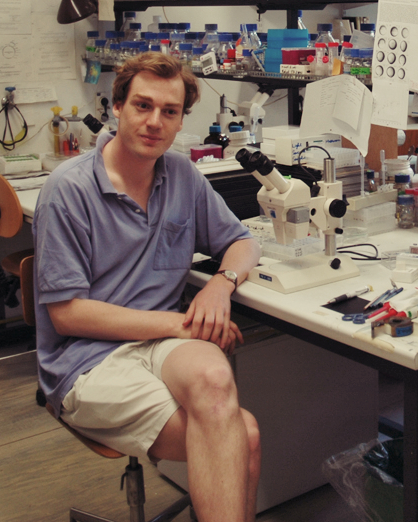 Telefon: +49 (0) 531 391 5723

Telefax: +49 (0) 531 391 8178

Anschrift:

TU Braunschweig
Biozentrum
Zoologisches Institut
Zelluläre und Molekulare Neurobiologie
Spielmannstr. 7
38106 Braunschweig
Emotions and motivated behavior in zebrafish
How does the brain encode positive and negative emotions, such as happiness and fear? How do emotional states inform behavioral output? How are cognitive processes such as learning and memory influenced by emotional biases?
We are investigating these questions in the zebrafish (Danio rerio) using a variety of imaging, behavioral, genetic, computational, and molecular biological techniques. One of the many beauties of the zebrafish is its optical translucency during the larval stages that together with its comparatively small vertebrate brain makes it possible to observe neural activity with single-cell resolution throughout the whole brain in real time (Ahrens et al., 2013; Vanwalleghem et al., 2018). We can now see how the fish thinks (but we are just beginning to make sense of the emerging data). Furthermore, we can learn about brain function through direct interrogations of specific neural circuits.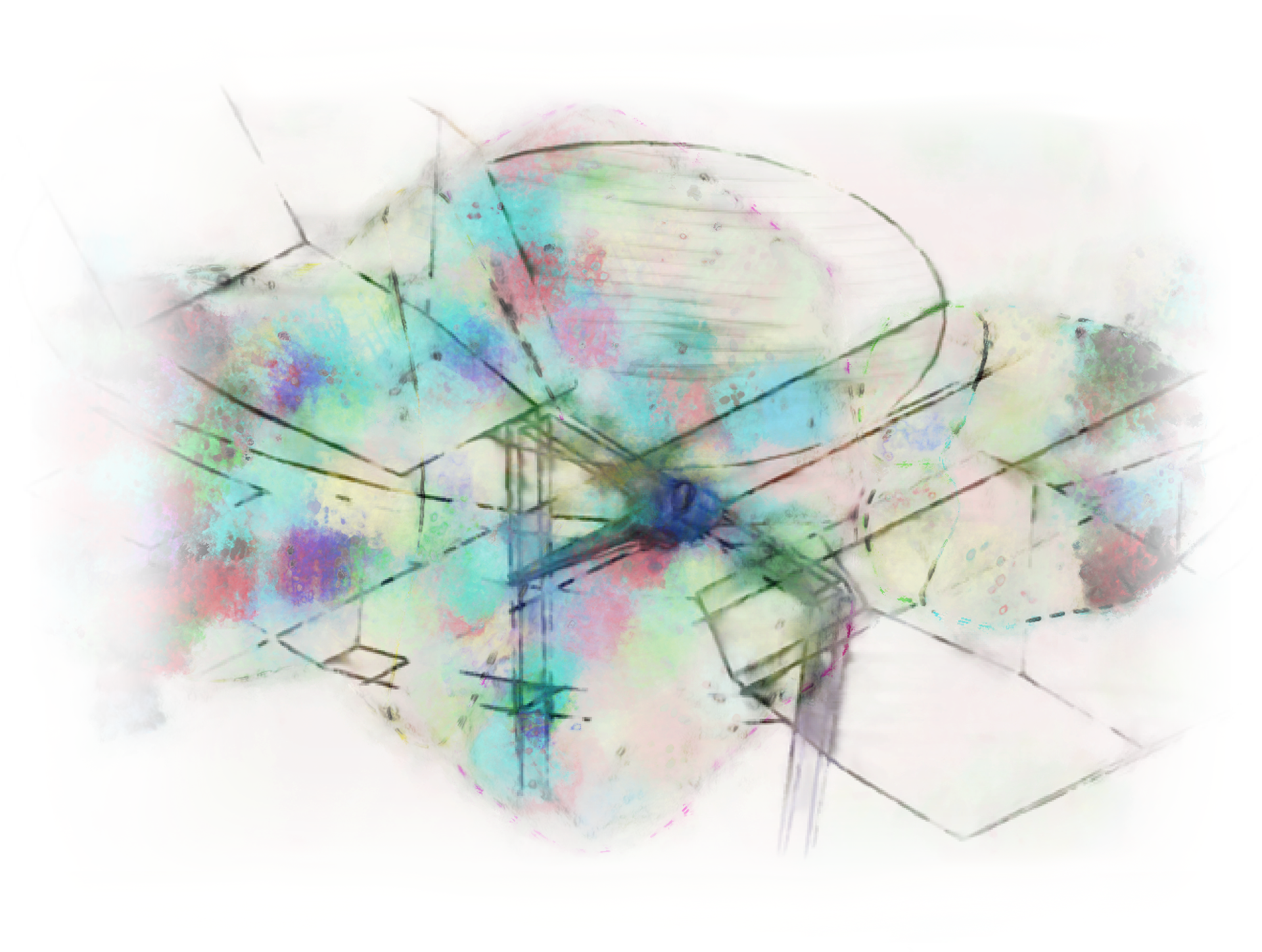 Our current research builds on this work that has laid the foundation for a molecular genetic dissection of the neural circuits mediating emotions and motivated behavior (Guo et al., 2012; Perathoner et al., 2016; Lal et al., 2018). More recently, we have developed a microfluidic device that is compatible with whole-brain in vivo imaging via light sheet microscopy (Mattern et al., 2020). In addition to fundamental insights into brain function, this research may ultimately also contribute to novel and better treatments of neuropsychiatric disorders in humans such as depression, anxiety, and drug addiction.
If you are keen in participating in this research as a Bachelor, Master, PhD student, postdoctoral researcher, or otherwise, I am happy to hear from you at: j.von-trotha[at]tu-braunschweig.de
Work experience
Since 2016
Technical University of Braunschweig, Germany
Zoological Institute
Cellular and Molecular Neurobiology
Research Fellow
2010-2014
French National Centre for Scientific Research (CNRS)
Institute of Neurobiology Alfred Fessard, Gif-sur-Yvette, France
Advisor: Laure Bally-Cuif
Education
2006-2010
University of Cambridge, United Kingdom
PhD in Neuroscience
Advisor: Andrea Brand
2002-2005
University of Cologne, Germany
Diploma (equivalent M.Sc.) in Biology and Philosophy
Advisor: José Campos-Ortega
2001-2002
University of Zürich, Switzerland
Studies in Biology and Philosophy
1999-2001
University of Tübingen, Germany
Vordiplom (equivalent B.Sc.)
Studies in Biology and Philosophy
Fellowships
2006-2009 PhD scholarship of the German Academic Exchange Service (DAAD)
Publications
Mattern, K.*, von Trotha, J.W.*, Erfle, P., Köster, R.W., & Dietzel, A. (2020). NeuroExaminer: an all-glass microfluidic device for whole-brain in vivo imaging in zebrafish. Commun Biology, 3, 311. DOI: 10.1038/s42003-020-1029-7
*equal contribution
see also press release (in German)
von Trotha, J.W., Vernier, P., and Bally-Cuif, L. (2014). Emotions and motivated behavior converge on an amygdala-like structure in the zebrafish. Eur J Neurosci 40, 3302-3315. DOI: 10.1111/ejn.12692
von Trotha, J.W., Egger, B., and Brand, A.H. (2009). Cell proliferation in the Drosophila adult brain revealed by clonal analysis and bromodeoxyuridine labelling. Neural Dev 4, 9. DOI: 10.1186/1749-8104-4-9
von Trotha, J.W., Campos-Ortega, J., and Reugels, A. (2006). Apical localization of ASIP/PAR-3:EGFP in zebrafish neuroepithelial cells involves the oligomerization domain CR1, the PDZ domains, and the C-terminal portion of the protein. Dev Dyn 235, 967-77. DOI: 10.1002/dvdy.20715
References
Ahrens, M.B., Orger, M.B., Robson, D.N., Li, J.M., & Keller, P.J. (2013) Whole-brain functional imaging at cellular resolution using light-sheet microscopy. Nature Methods, 10, 413–420. DOI: 10.1038/nmeth.2434
Guo, S., Wagle, M., & Mathur, P. (2012) Toward molecular genetic dissection of neural circuits for emotional and motivational behaviors. Developmental neurobiology, 72, 358–365. DOI: 10.1002/dneu.20927
Lal, P., Tanabe, H., Suster, M.L., Ailani, D., Kotani, Y., Muto, A., Itoh, M., Iwasaki, M., Wada, H., Yaksi, E., & Kawakami, K. (2018) Identification of a neuronal population in the telencephalon essential for fear conditioning in zebrafish. BMC biology, 16, 45. DOI: 10.1186/s12915-018-0502-y
Mattern, K., von Trotha, J.W., Erfle, P., Köster, R.W., & Dietzel, A. (2020) NeuroExaminer: an all-glass microfluidic device for whole-brain in vivo imaging in zebrafish. Commun Biology, 3, 311. DOI: 10.1038/s42003-020-1029-7
Northcutt, R.G. (2006) Connections of the lateral and medial divisions of the goldfish telencephalic pallium. The Journal of comparative neurology, 494, 903–943. DOI: 10.1002/cne.20853
Perathoner, S., Cordero-Maldonado, M.L., & Crawford, A.D. (2016) Potential of zebrafish as a model for exploring the role of the amygdala in emotional memory and motivational behavior. J Neurosci Res, 94, 445–462. DOI: 10.1002/jnr.23712
Portavella, M., Torres, B., & Salas, C. (2004) Avoidance response in goldfish: emotional and temporal involvement of medial and lateral telencephalic pallium. The Journal of neuroscience : the official journal of the Society for Neuroscience, 24, 2335–2342. DOI: 10.1523/JNEUROSCI.4930-03.2004
Vanwalleghem, G.C., Ahrens, M.B., & Scott, E.K. (2018) Integrative whole-brain neuroscience in larval zebrafish. Current opinion in neurobiology, 50, 136–145. DOI: 10.1016/j.conb.2018.02.004
von Trotha, J.W., Vernier, P., & Bally-Cuif, L. (2014) Emotions and motivated behavior converge on an amygdala-like structure in the zebrafish. The European journal of neuroscience, 40, 3302–3315. DOI: 10.1111/ejn.12692
Wullimann, M.F. & Mueller, T. (2004) Teleostean and mammalian forebrains contrasted: Evidence from genes to behavior. The Journal of comparative neurology, 475, 143–162. DOI: 10.1002/cne.20183