The University Development Initiative 2030 is composed of three project phases: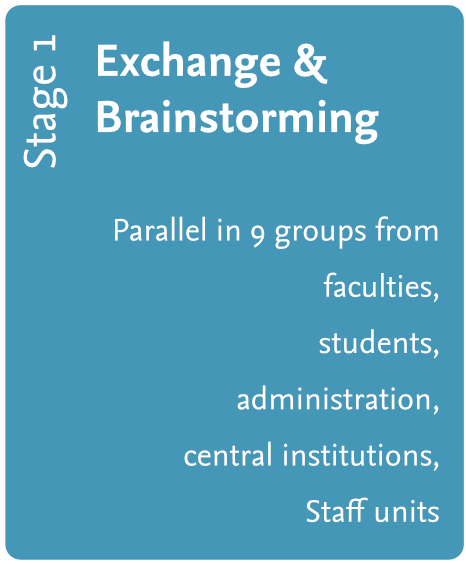 In phase 1, a collaborative exchange and collection of ideas takes place along specific questions within the faculties, among the students, and among the employees from the administration, the central facilities, and the staff units. These questions around the subjects vision, research, study and teaching, transfer, culture and framework conditions were discussed by nine groups. The results from the groups are the foundation for the future workshops in phase 2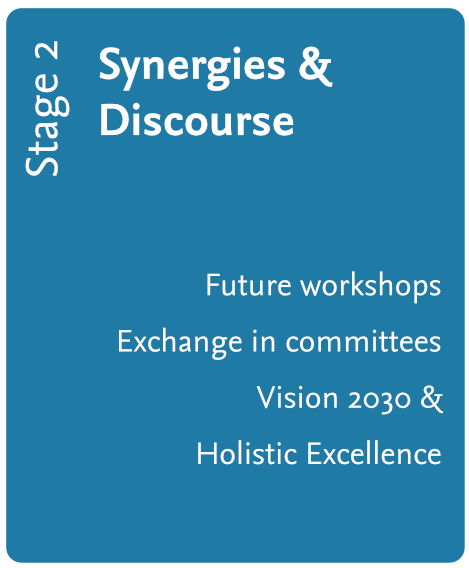 In phase 2, the results from phase 1 will be bundled along the focal topics, discussed in future workshops with representatives of all nine groups from phase I as well as with critical friends, and further developed in the committees and in topic-specific working groups. Phase 2 will conclude in the second quarter of 2022 with a final workshop in which the common vision and an overall picture of a holistic development as pathway to Exzellenz will be defined. Based on these results, the joint development of a university development concept will take place in phase 3.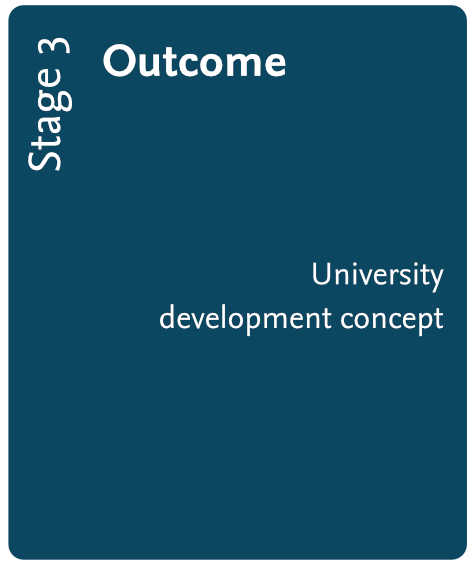 Phase 3 aims to anchor strategic fields of action and strategic measures in a university development concept on the foundation of the results of phases 1 and 2. The concept is established on the basis of a centrally specified scheme in the performance dimensions "research", "transfer", "administration" and "teaching & learning". A special focus is set on the integrated cross-sectional topics. The university development concept itself is developed in a joint process of the central institutions, the administration, the Governance Board and the faculties. Phase 3 ends with the compilation of the university development concept and a joint final meeting.
The results of phase 1 were developed collaboratively by a large number of university members in nine groups. More than fourty people from the phase 1 groups as well as the "critical friends" participate in the future workshops of phase 2. In addition, the interim results are critically discussed in the Strategy Commission, the Faculty Councils and the Senate. The development of the university development concept is carried out by the central office and the faculties. The final document is approved by the members of the Senate and the Presidential Board.
In the next few years, the development planning will also serve as a basis for development discussions between the faculties and the Governance Board.
The university development concept will also be provided to the Ministry of Science and Culture after the end of the university development initiative and will serve as a base for the target agreements with the Ministry according to § 1 para. 3 NHG.