After Matriculation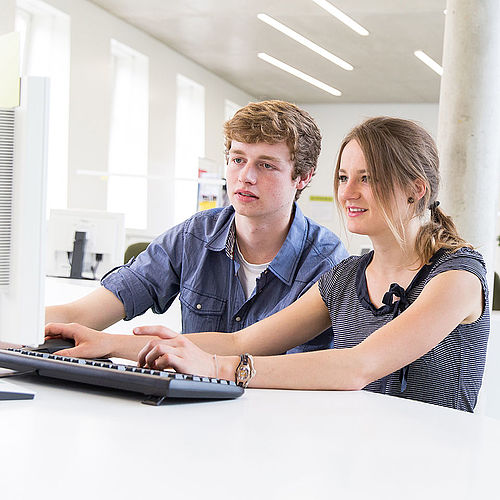 First of all, acquaint yourself with all the relevant term dates.
Still looking for accommodation? Take a look at the numerous notices around campus, for example at the Old Building, the Mensa or the General Students' Committee (AStA). For more information on the halls of residence, please contact the Student Support Services. For useful information and links, you can also check out the tips for finding housing.
Remember to register your new place of residence. You are required to do so with the City of Braunschweig's Bürgerbüro [in German], an administrative office for citizens, within two weeks of your move.
For some degree programmes, you will need to complete preliminary courses or internships before the start of your studies. Find out when these preliminary courses [in German] take place and how to register.

It is compulsory to attend language courses for some courses. The Language Centre offers courses in many foreign languages and in German as a foreign language.
Please note: Some courses require you to take a placement test before you can enrol in the language course. You should therefore inform yourself in good time about the registration procedure and the dates at the Language Centre. As a rule, registration for language courses is possible two weeks before the start of lectures.

The D1RECTIONS project supports students in the initial study phase in arriving at the university, giving direction to their studies and planning necessary steps. Two different measures are offered for this purpose: group-based coaching over 7 sessions and a digital onboarding tool that can be used from any device, regardless of location. The offer is primarily aimed at bachelor students in the 1st-3rd semester.
4 weeks before the start of term
Using your user ID (y-number), you will be able to access the university's W-LAN and your university e-mail address. If you did not receive a y-number at matriculation, it is best to check with the Gauss IT Centre directly. For all other questions concerning IT at the university, please read the Don't panic brochure [in German] produced by the Gauss IT Centre.
Some degree programmes offer special orientation days for freshers. For details, please check this overview provided by the Central Student Advisory Service [in German].
Have you applied for BAföG yet? German students can apply for BAföG to fund their studies. For information and contacts, please visit the Student Support Services website.
If BAföG is not sufficient to cover your expenses, come and visit the Matriculation Office's Financial Counselling Service at the Study Service Centre. The staff there will do their best to help students dealing with financing problems or financial bottlenecks. Under some circumstances, it may for example be possible to apply for an exemption from certain fees and contributions.
2 weeks before the start of term
Many degree programmes provide sample study plans. You will want to get hold of these plans and read through the exam regulations for your programme. Further information is provided by the faculties.
You can also draw up a study plan using the study management system Stud.IP [in German] and get an overview of all your upcoming lectures and classes.
Are you into sports? Students can participate in university sports. Find out what's on offer and how to register at the Sports Centre [in German] and check out the current sports programme [in German]. Registration usually opens on the first day of lectures.
Find out now about the courses offered by the Language Centre: For some language courses the placement tests already takes place during the first week of lectures! Learn a foreign language or German as a foreign language.
Finding your way around campus is not always easy. Locate specific places or lecture halls on the Campus map [in German].
To borrow books, you need your electronic student identity card, the TUcard. You can also take part in introductory sessions [in German] at the University Library.
The first week
During the first week, the faculties often organize special first semester events for the individual subjects. It is best to ask your program coordinator about this. In some subjects, first-semester students also have to fill out registration forms; here, too, the program coordinators can help you.
The first days are over and you are slowly settling in at the university. If you have any suggestions on how the quality of studies and teaching can be further improved, please contact Tell us. In this blog you can send your suggestions for improvement directly to the university management and your ideas will be forwarded to the right places.
For almost every concern about studying, from student financing and exam anxiety to studying with children or questions about studying abroad, there are advisory services and services. The advice navigator will help you find the right offers for your questions and concerns.
"This is how it works here": To make your start at TU Braunschweig easier, you can read in the campus etiquette guide what you can expect from us - and what we expect from you.
If you're still looking for new contacts, you'll find opportunities for digital and analog networking here.