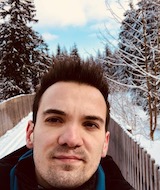 Francisco Carpio
Room: 1106
Phone: +49 531 391 9652
E-Mail: f.carpio(at)tu-bs.de
Lehrstuhl für Kommunikationsnetze
Chair for Communication Networks
Hans-Sommer-Str. 66
38106 Braunschweig
Biography
Francisco Carpio is a Ph.D. student at the Institute of Computer and Network Engineering at the Technische Universität Braunschweig, Germany. He obtained his Master degree in Telecommunications Engineering from Universitat Politècnica de Catalunya (UPC), Spain. His research interests include Network Function Virtualization, Edge Cloud computing networks and Machine Learning applied to network and service management.
Projects
BMBF - PLANETS-SENDATE - SEcure Networking for a DATa center cloud in Europe - 2016-2019
EU H2020 - mF2C - Towards an Open, Secure, Decentralized and Coordinated Fog-to-Cloud Management Ecosystem - 2017 - 2020
Publications
Journal Papers
A. Jukan, F. Carpio, X. Masip, A. J. Ferrer, N. Kemper and B. U. Stetina, "Fog-to-Cloud Computing for Farming: Low-Cost Technologies, Data Exchange, and Animal Welfare," in Computer, vol. 52, no. 10, pp. 41-51, Oct. 2019. DOI: 10.1109/MC.2019.2906837.

Jasenka Dizdarević, Francisco Carpio, Admela Jukan, and Xavi Masip-Bruin. 2019. A Survey of Communication Protocols for Internet of Things and Related Challenges of Fog and Cloud Computing Integration. ACM Comput. Surv. 51, 6, Article 116 (January 2019), 29 pages. DOI: 10.1145/3292674.

S. K. Singh, F. Carpio, and A. Jukan, "Improving Animal-Human Cohabitation with Machine Learning in Fiber-Wireless Networks", MDPI Journal of Sensor and Actuator Networks, vol. 7, no. 3, pp. 1-16, 2018. DOI: 10.3390/jsan7030035.
Workshops
Dizdarević J., Carpio F., Bensalem M., Jukan A. (2019) Enhancing Service Management Systems with Machine Learning in Fog-to-Cloud Networks. In: Mencagli G. et al. (eds) Euro-Par 2018: Parallel Processing Workshops. Euro-Par 2018. Lecture Notes in Computer Science, vol 11339. Springer, Cham. DOI: 10.1007/978-3-030-10549-5_23