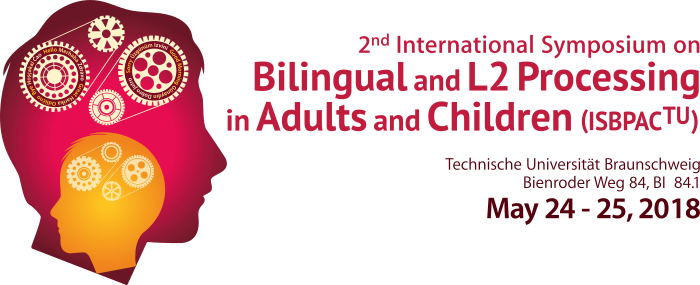 The symposium addresses topics in bilingual child, adult, and heritage speaker grammatical processing, including but not limited to:
lexical, morphological and syntactic processing;
crosslinguistic influence in bilingual speech production and comprehension;
code-switching
cognitive consequences of multilingualism;
language processing in attrition;
implications of multilingual language processing for teaching.
ISBPACTU will bring together researchers from different disciplines (e.g., linguistics, psychology, cognitive sciences, neuroscience and language pedagogy) who investigate bilingual and L2 processing.
---
Best Talk
Cristina Lozano-Argüelles
The time-course of verbal morphology anticipation: When interpreting experience makes a difference
Vincent Deluca
(Re)exploring the effect of the bilingual experience on brain structure
Elise Hopman
Language production practice improves comprehension performance on grammatical dependencies in early L2 learning
Best Poster
Tesni Galvin
Predictive processing of gender in L1/L2 Welsh
Claire Goriot
Are Dutch children able to distinguish between English phonetic contrasts? A comparison between monolingual children, early-English pupils, and bilinguals
Anna Marklová
Endpoint preferences in bilingual infants
Chara Tsoukala
Code-switching patterns en un modelo computacional: Simulating code-switching in a bilingual sentence-production model

Congratulations to Cristina, Vincent, Elise, Tesni, Claire, Anna and Chara!

We hope you enjoyed the conference as much as we did.
See you at the next ISBPAC in Nijmegen in 2020!
---
Keynote Speakers
Vicky Chondrogianni (University of Edinburgh)
Sentence comprehension in heritage bilingual children
Ian Cunnings (University of Reading)
Parsing and working memory in non-native sentence processing
Janet van Hell (Pennsylvania State University)
Code-switching in bilingual speakers: Behavioral and electrophysiological evidence
---
Pre-conference workshop
We are hosting a workshop on eye-tracking in bilingual and L2 processing, led by Theres Grüter (University of Hawaii), during the afternoon of Wednesday, 23rd May 2018.
---
Programme
Check out the programme and abstracts:
---